We all know and have come to appreciate what Škoda does - they make great value, practical, pretty good looking and cheap-ish to buy cars! But does all of that mean their latest model, the Scala, is worth buying? Keep reading to find out what we think!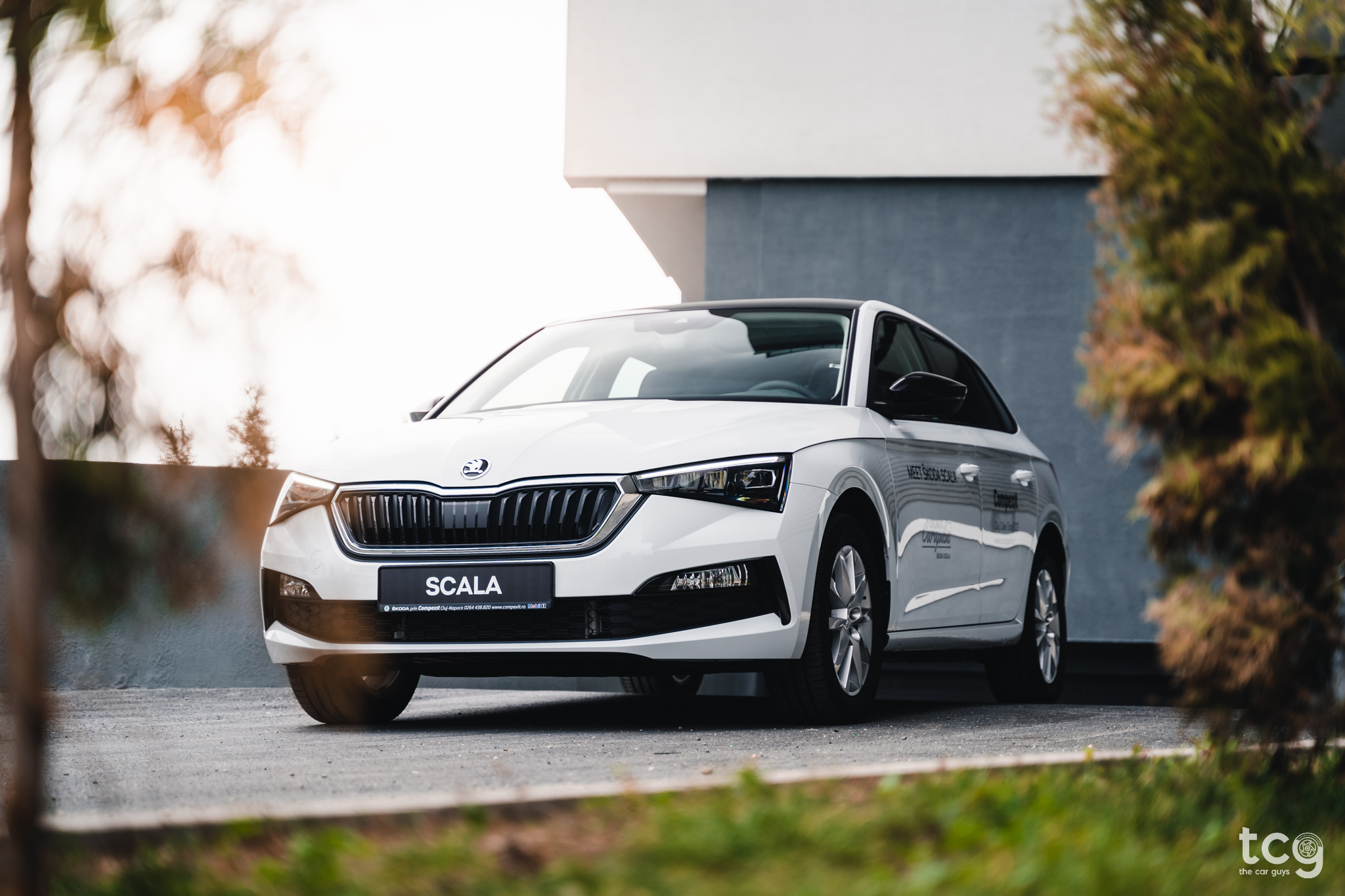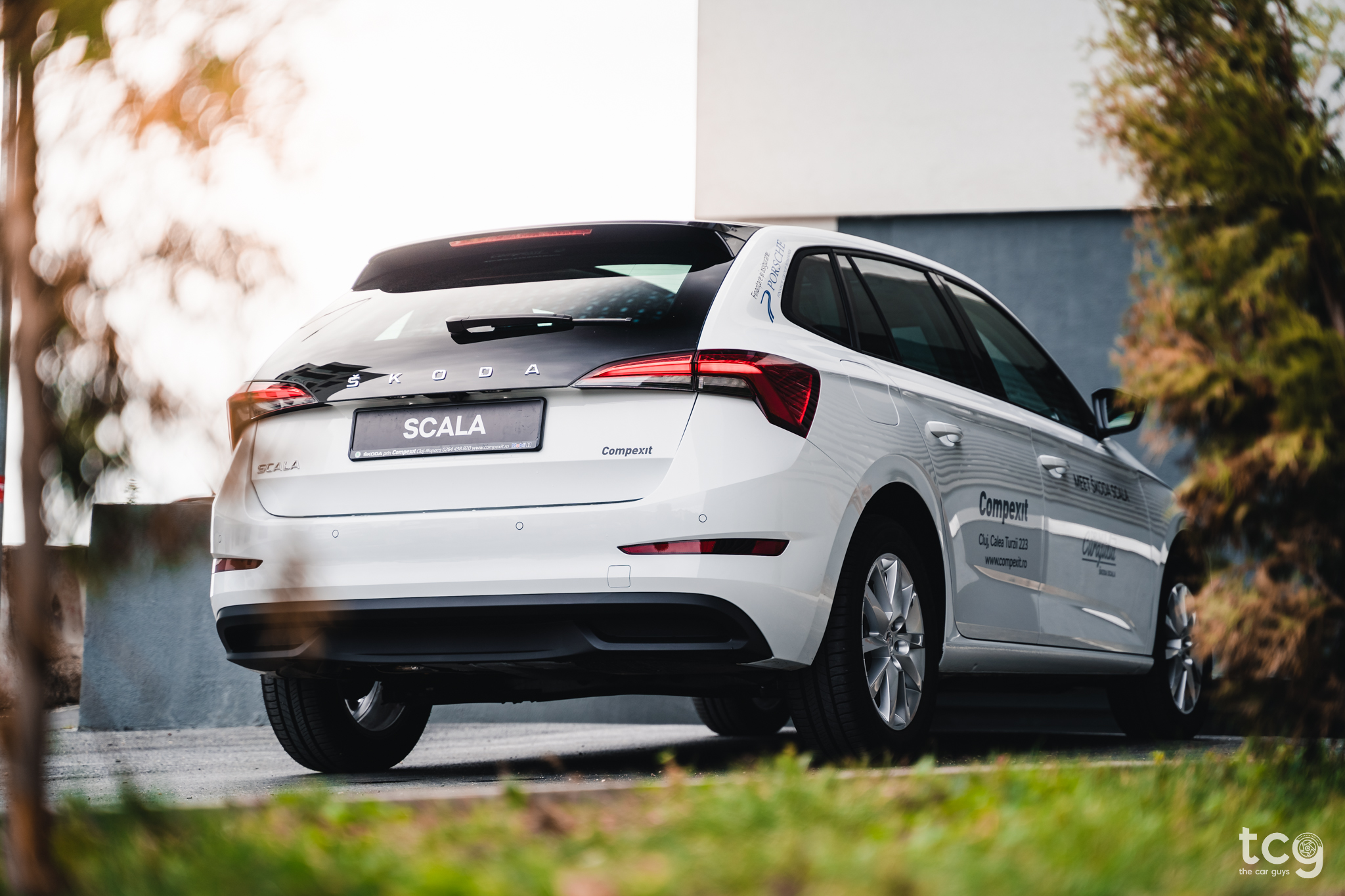 Thanks to our friends over at Compexit Skoda Cluj we managed to get the Scala for an entire weekend so we were able to put it through its paces and test pretty much anything and everything there is to test about this car. The model we got was the Scala Style with a 1.6 TDI diesel engine capable of producing 115HP and 250NM of torque coupled with a 7-speed DSG automatic gearbox. It's no performance car, by any means, but it's just right for your daily commute and day-to-day activities - if you want a more powerful version, they have a 1.5 TSI petrol model that can produce 150HP and the same 250NM of torque (0-100 km/h in 7.8s compared to the 9.8s the diesel makes).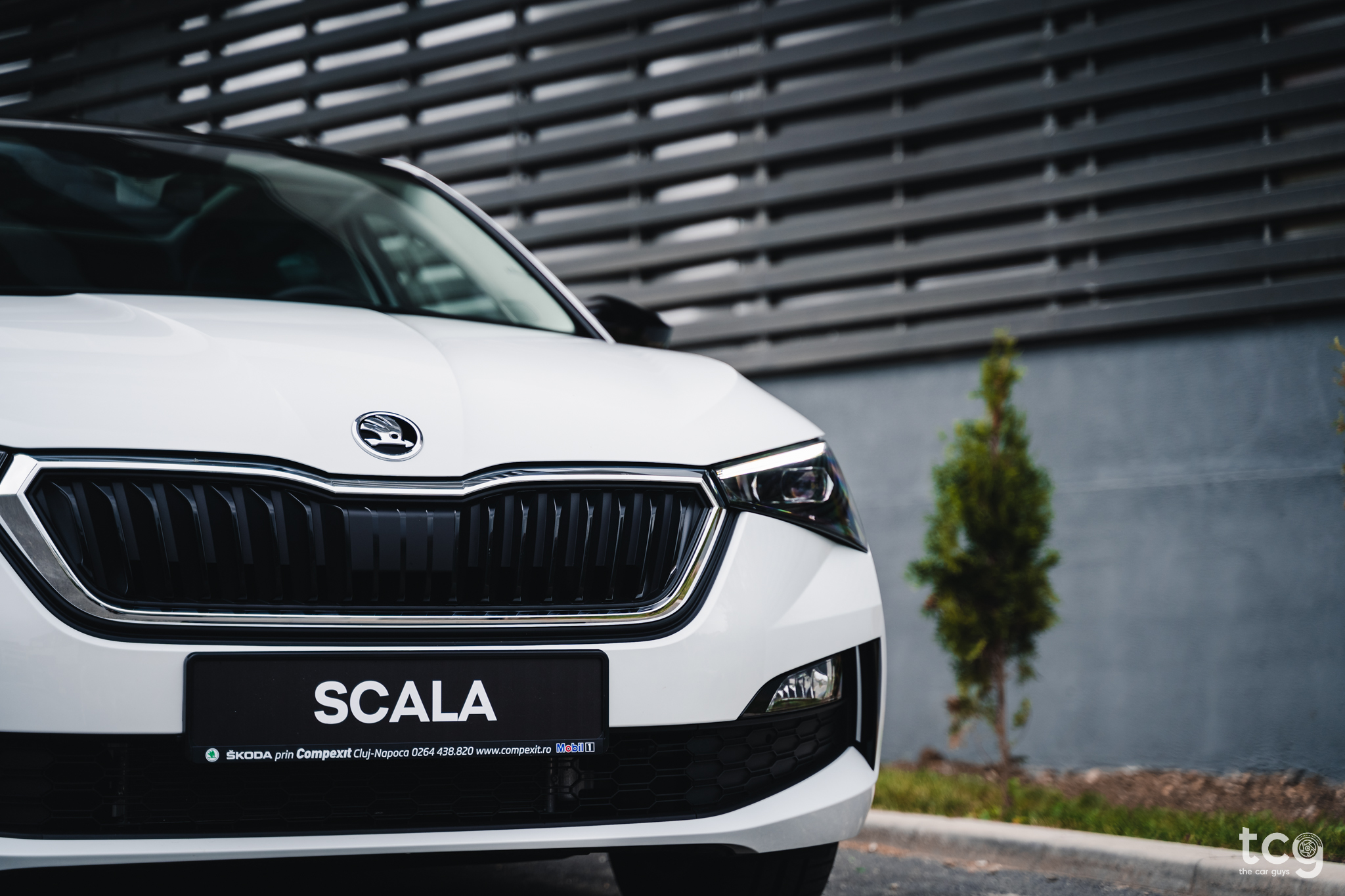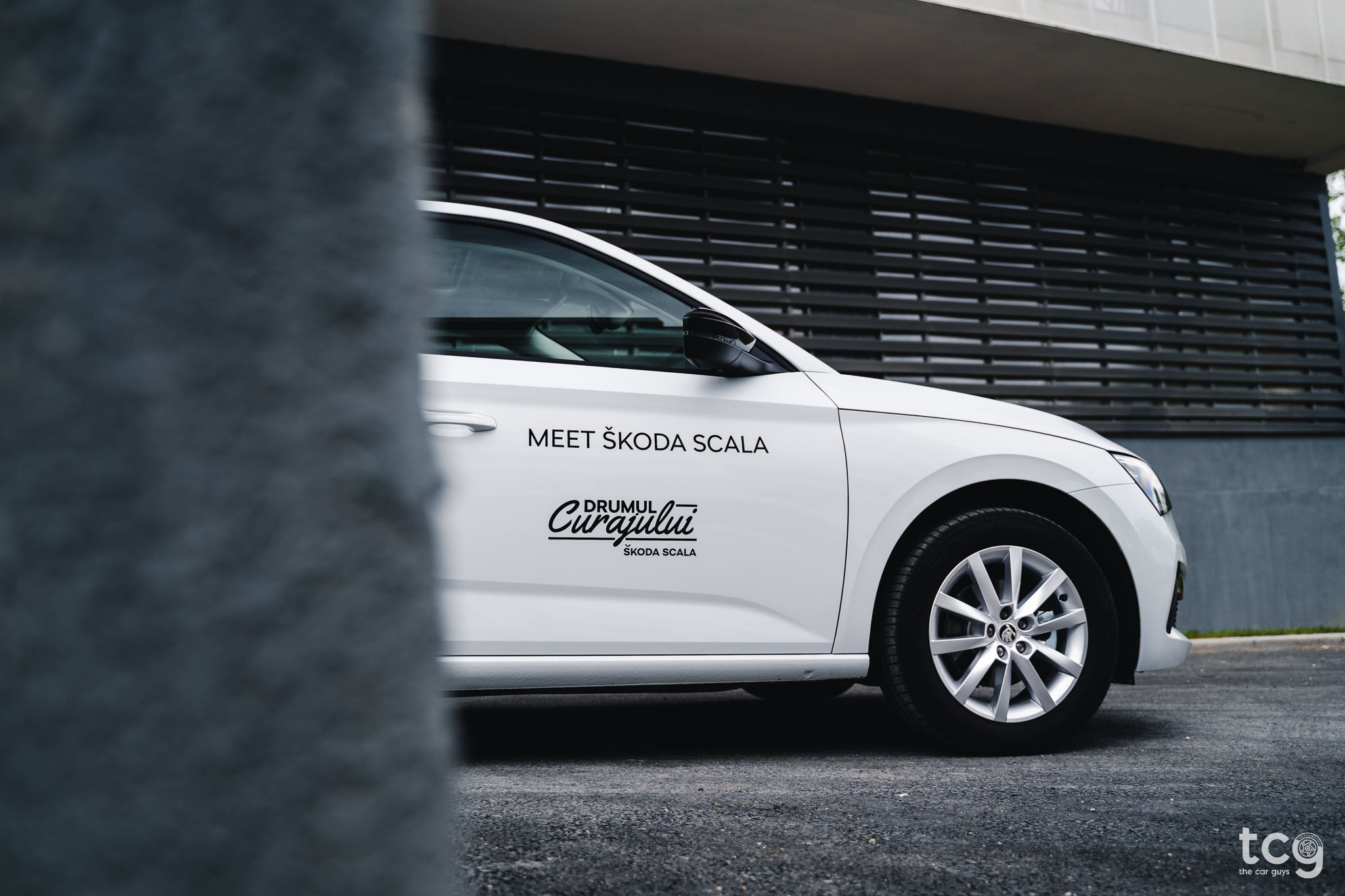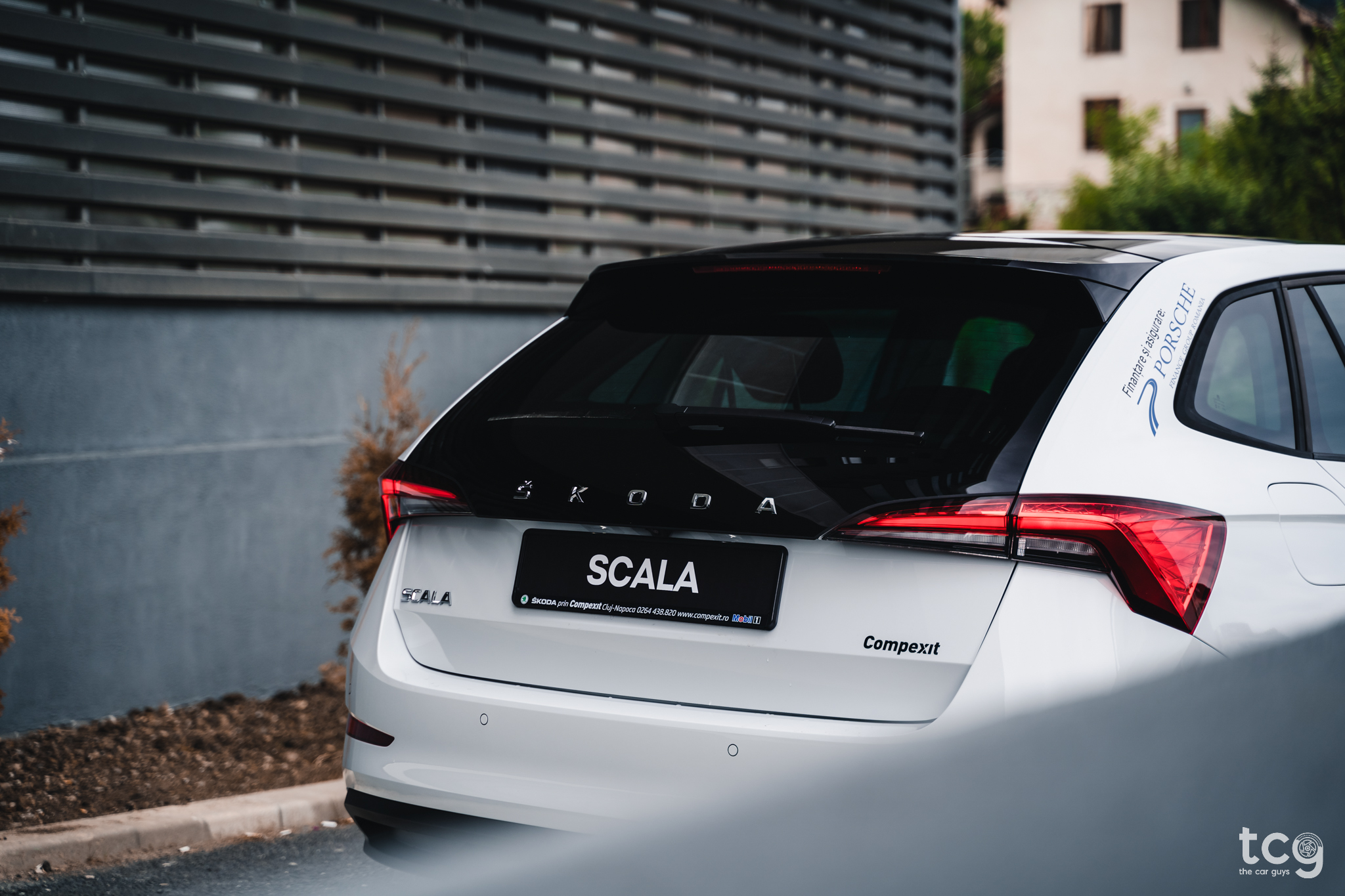 Fuel economy is great, which is something anyone who's looking to buy a Scala would look for - the advertised number is 4.1 l/100km (mixed) which is pretty much never real, on any car - but we did get something like 5.5 - 6 l/100km around town which is remarkable. On standard suspension the Scala is one of the better-riding cars in the class, right under the Golf (obviously). The suspension is set up for comfort, which means it's on the softer side so the car does have a little body roll in the corners - but it's not something to be worried about, since this is not a performance car and I doubt anyone would push it to its limits.
Comfort on the other hand is great, it absorbs every imperfection in the road and you only get a slight jolt throughout the cabin when you hit a large pothole or a manhole cover. It steers well, with enough precision and progressive weight build up to get a feel of what the front wheels are doing.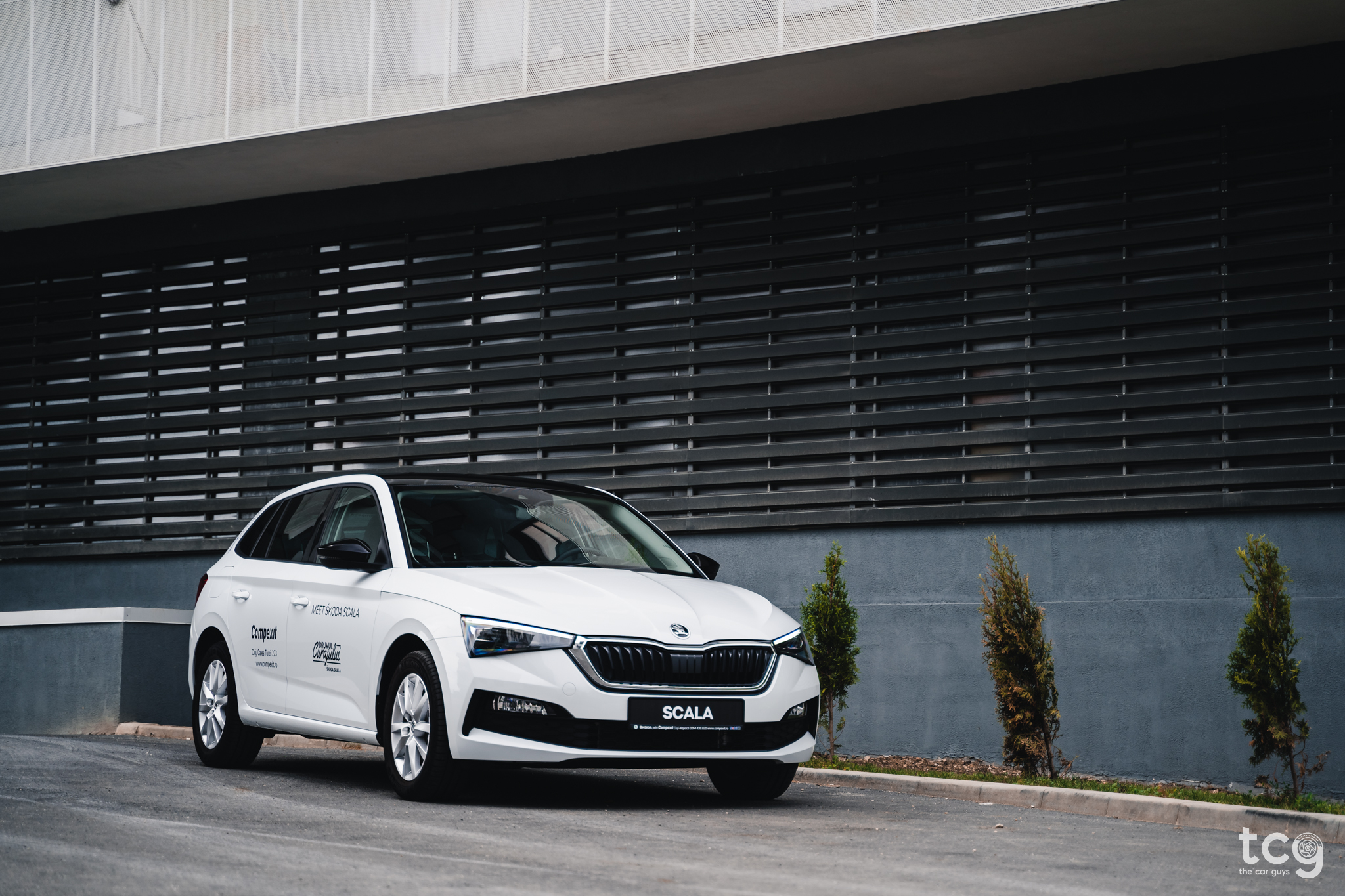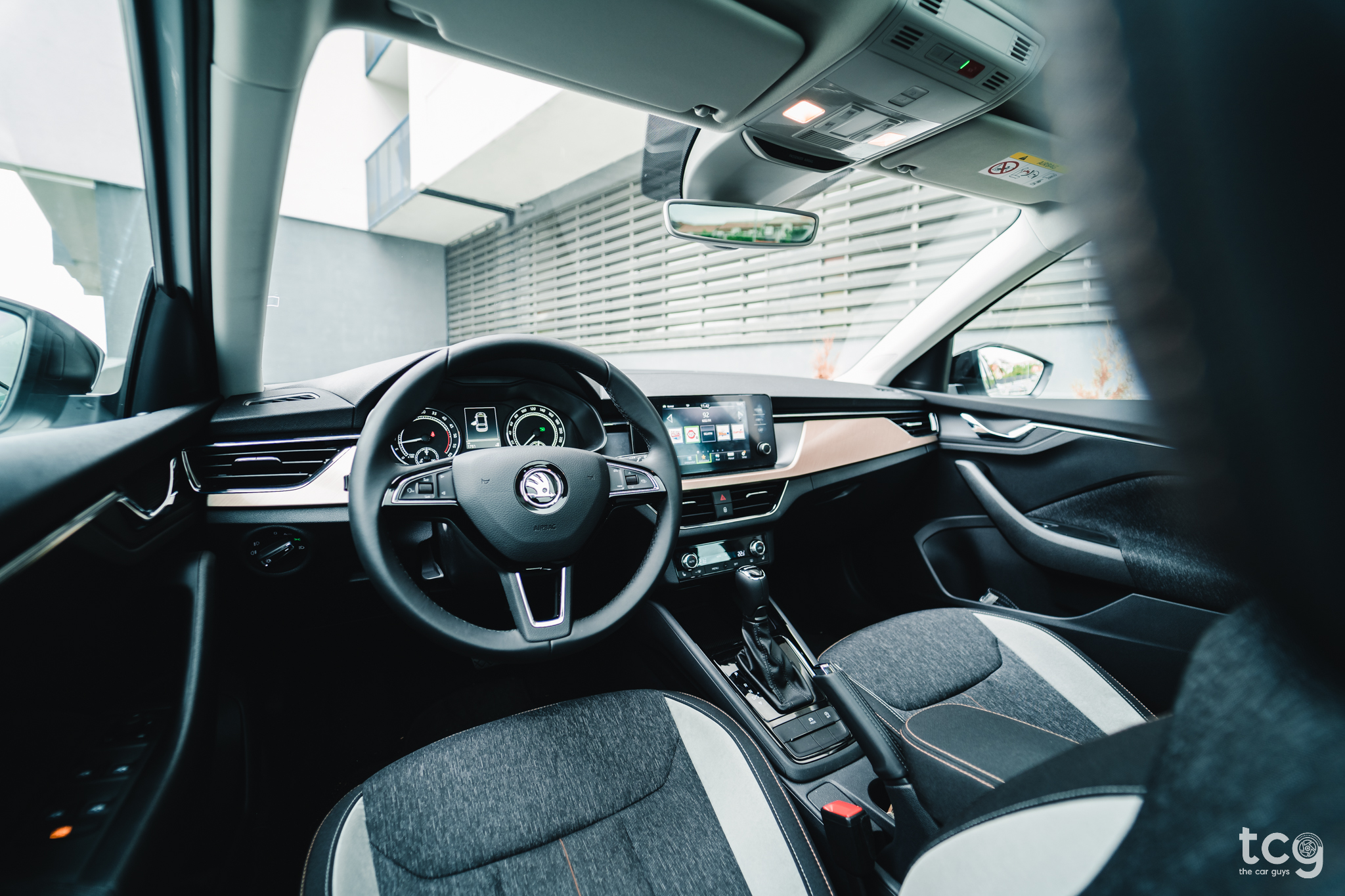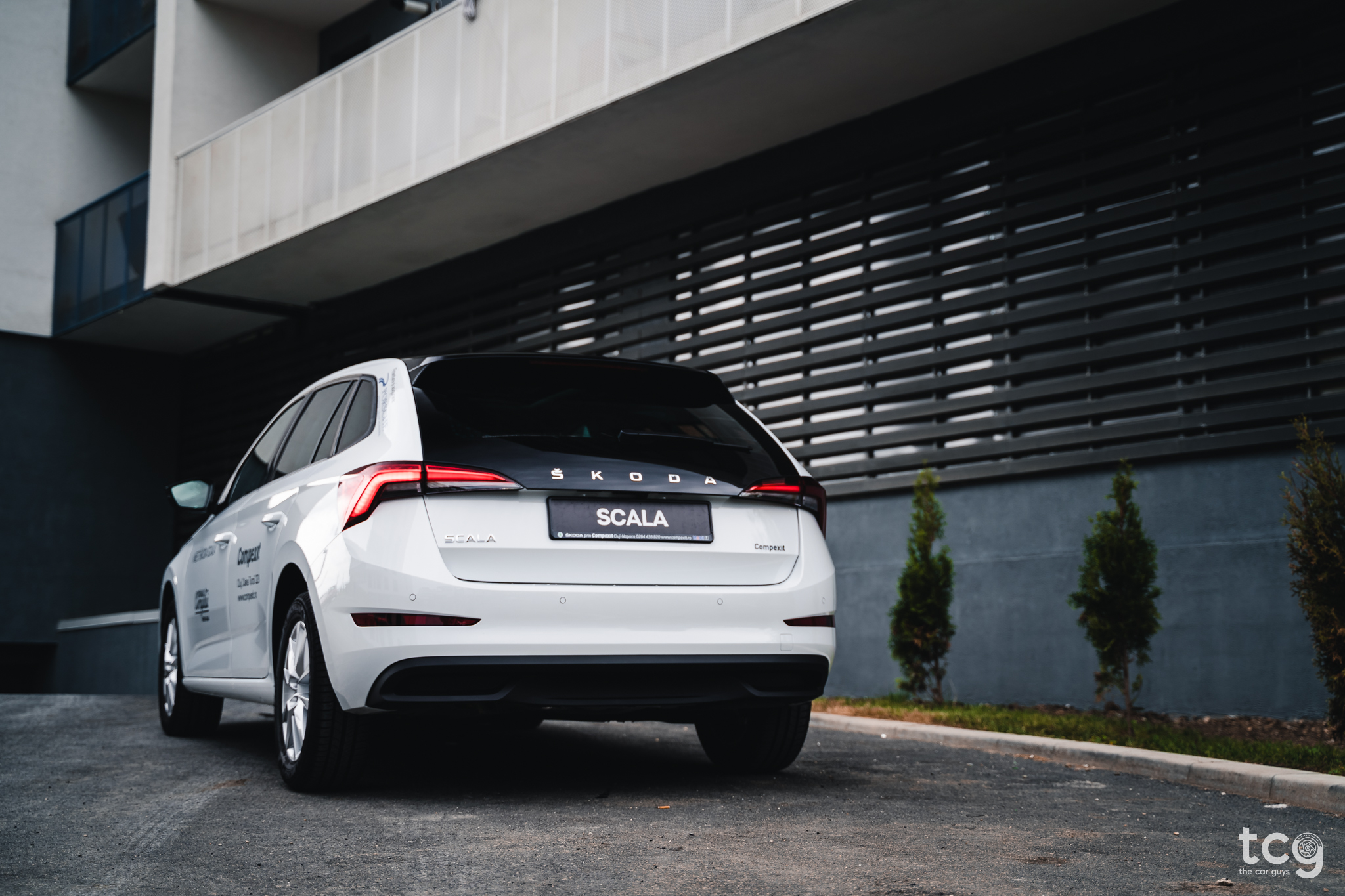 Refinement is also on point and great for its class - under acceleration, the 1.6 TDI engine is pretty rattly and noisy (but what engine in the VAG group isn't?) but it's noticeably quieter than the Golf or the Kia Ceed. Wind and road noise are present but they are only annoying once you pick up speed, otherwise, you're all good!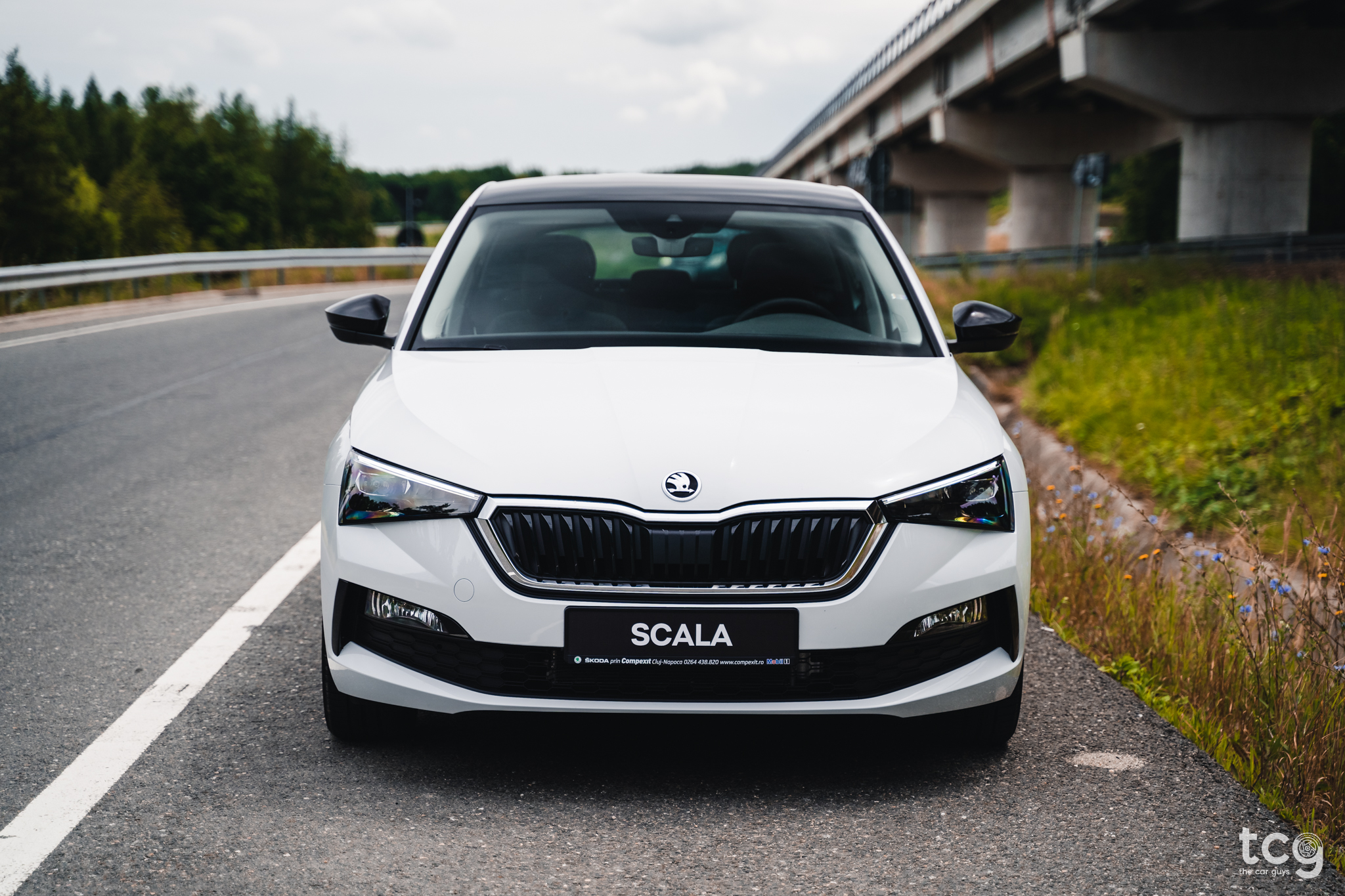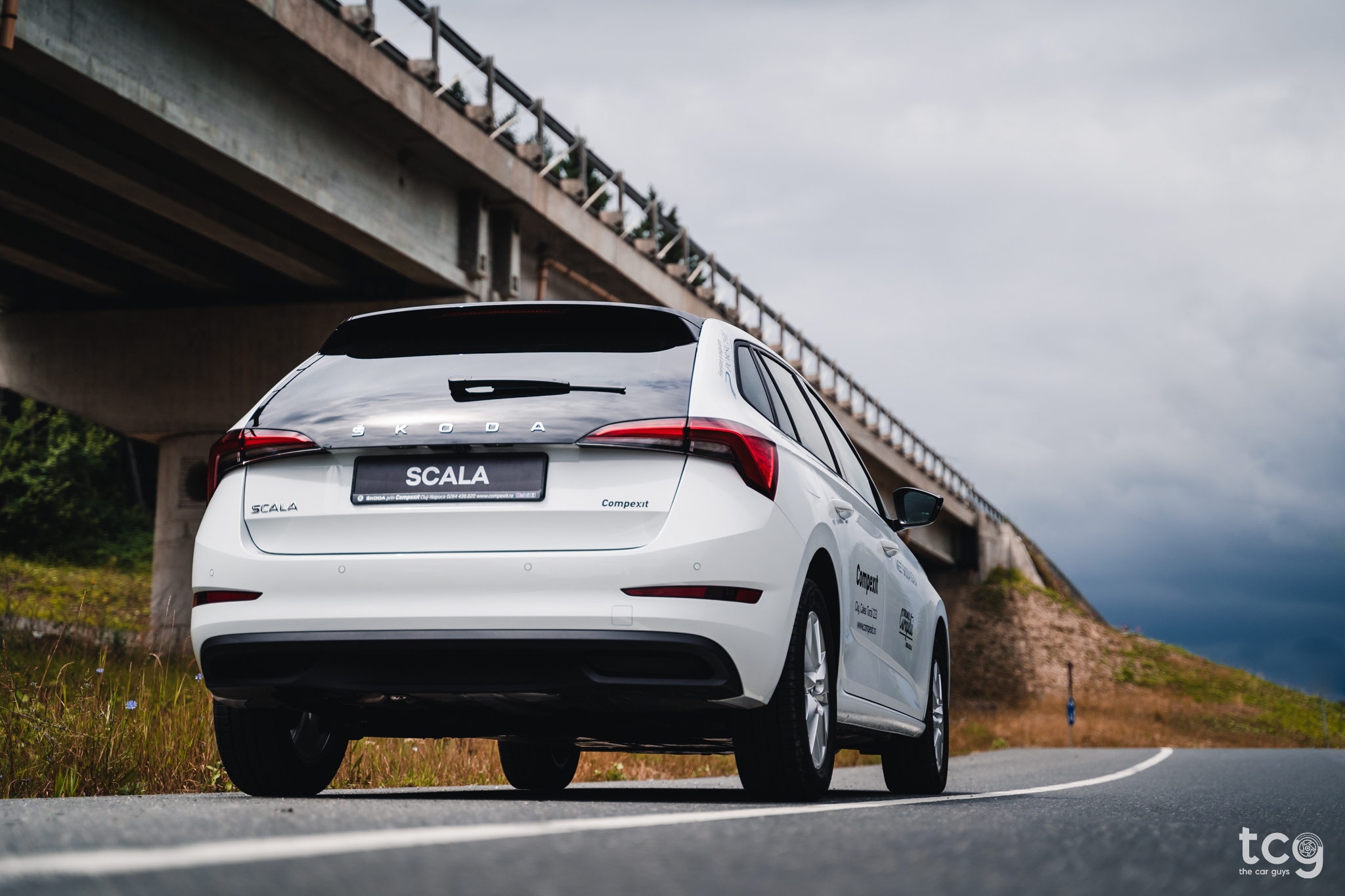 It's worth mentioning that this is the first Skoda that has the brand's name spelled out across the tailgate - which looks great if you ask me! It also features dynamic indicators and a massive panoramic sunroof which is absolutely brilliant!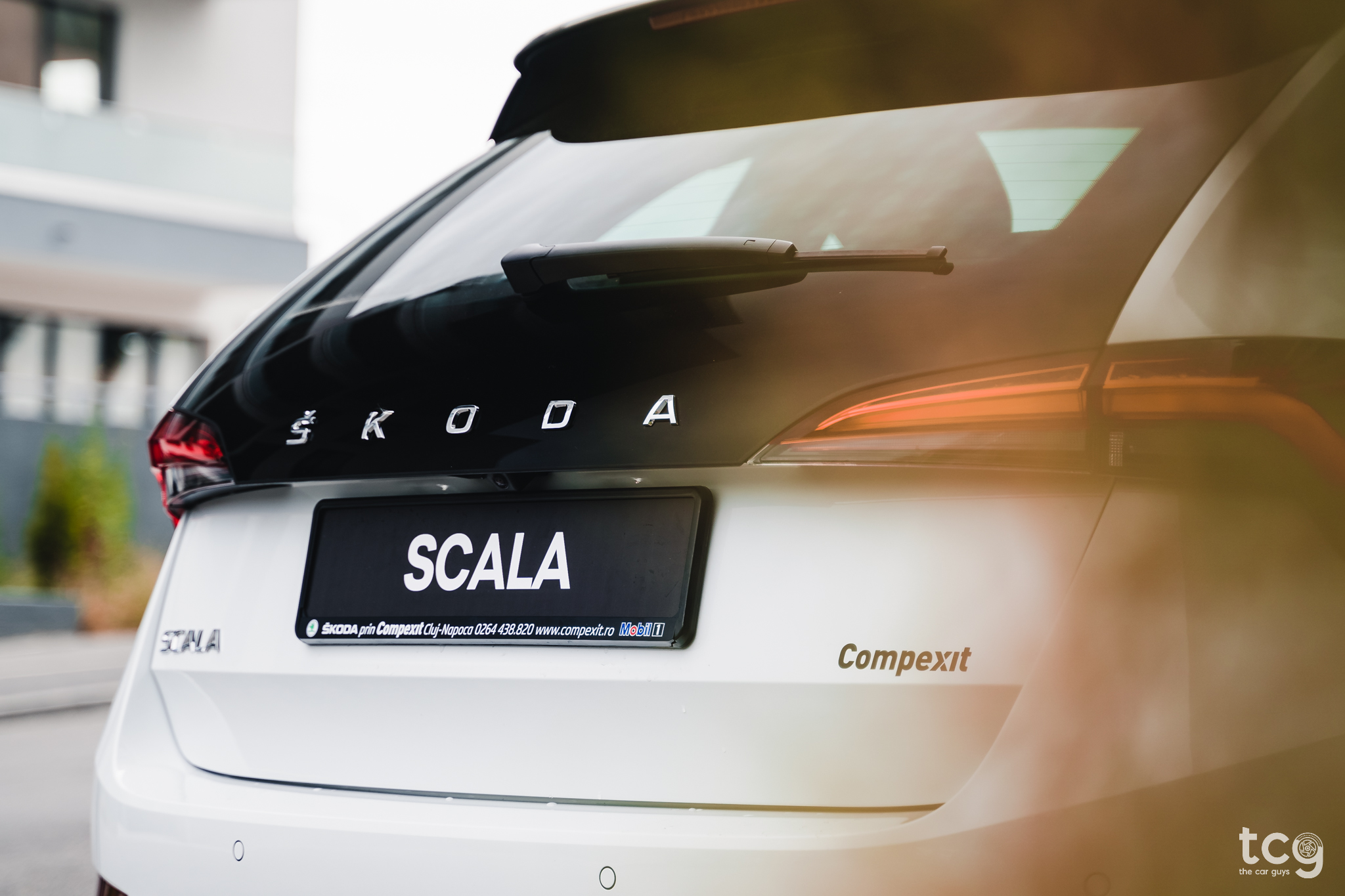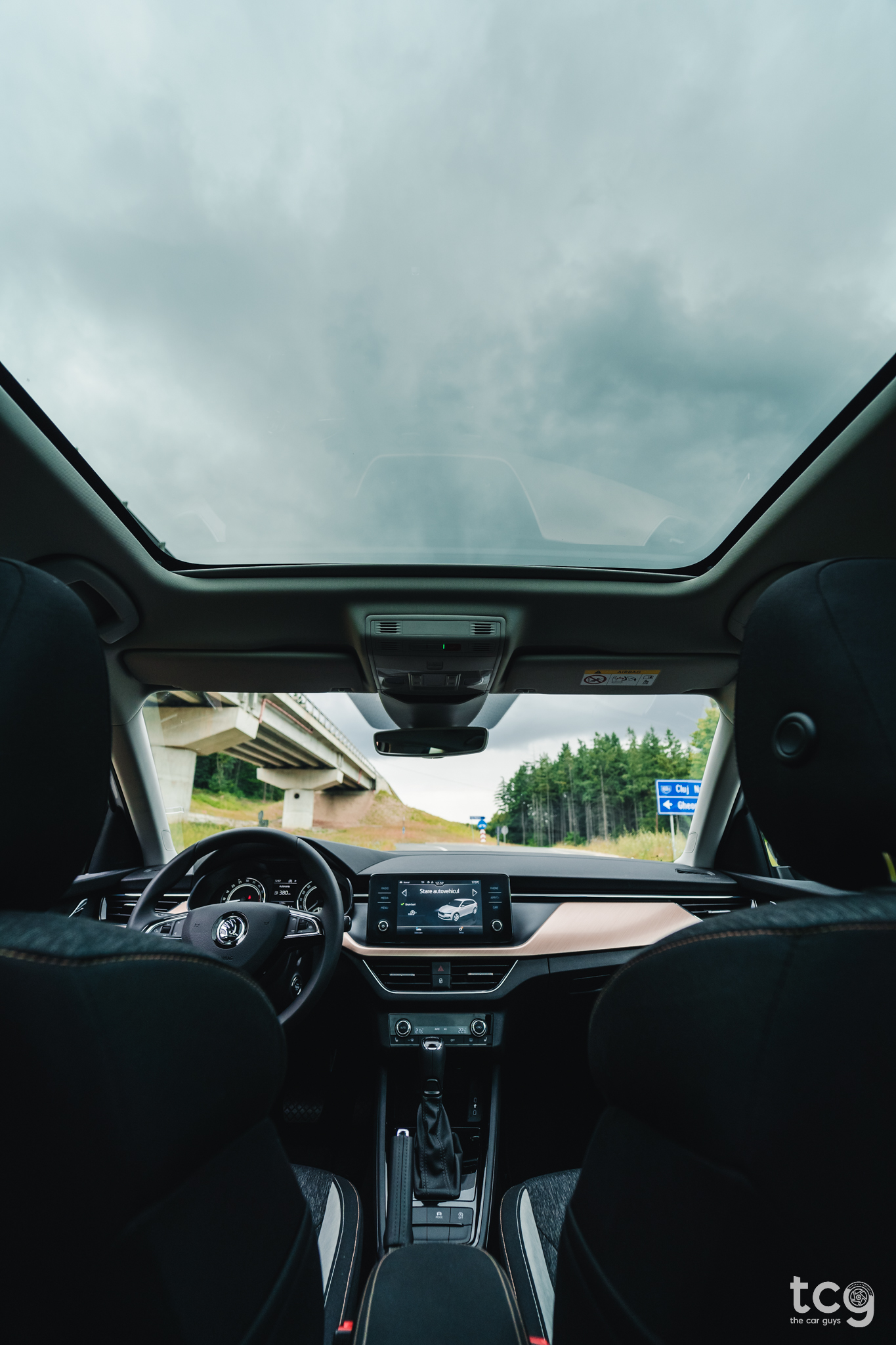 Moving to the interior we find that it's very easy to get comfortable behind the wheel of the Scala as there's enough steering wheel/seat adjustment to fit pretty much anyone - even if you're taller. The 8-inch touch-screen infotainment system is good but you can upgrade to a 9.2-inch one which is awesome, and, if you have the money, you can also upgrade from the analogue instrument cluster to a 12.3in digital screen (like Audi's Virtual Cockpit). We got neither of those in our test car, but, if they are the same as in other VAG cars then they're well worth the extra cash!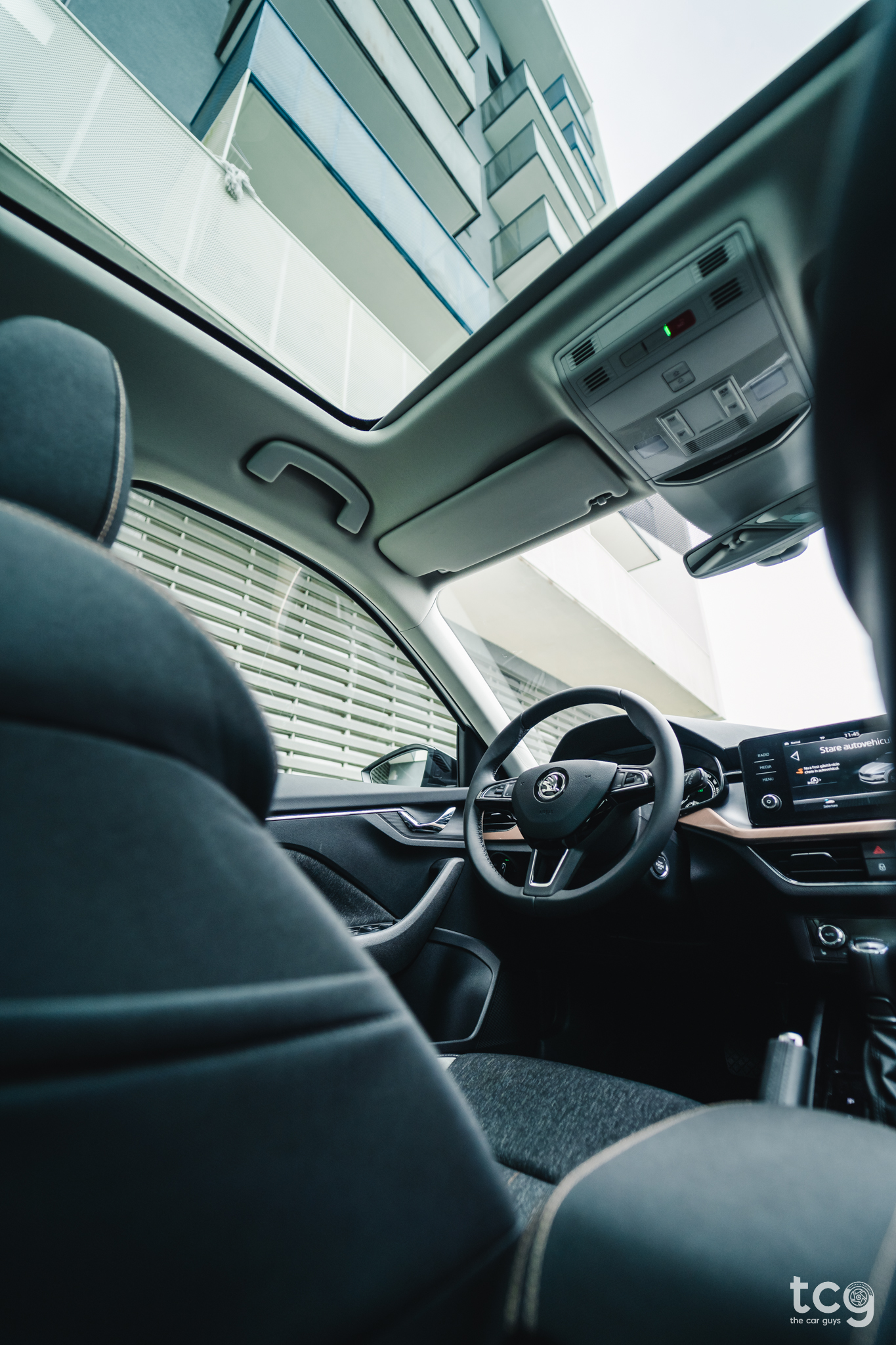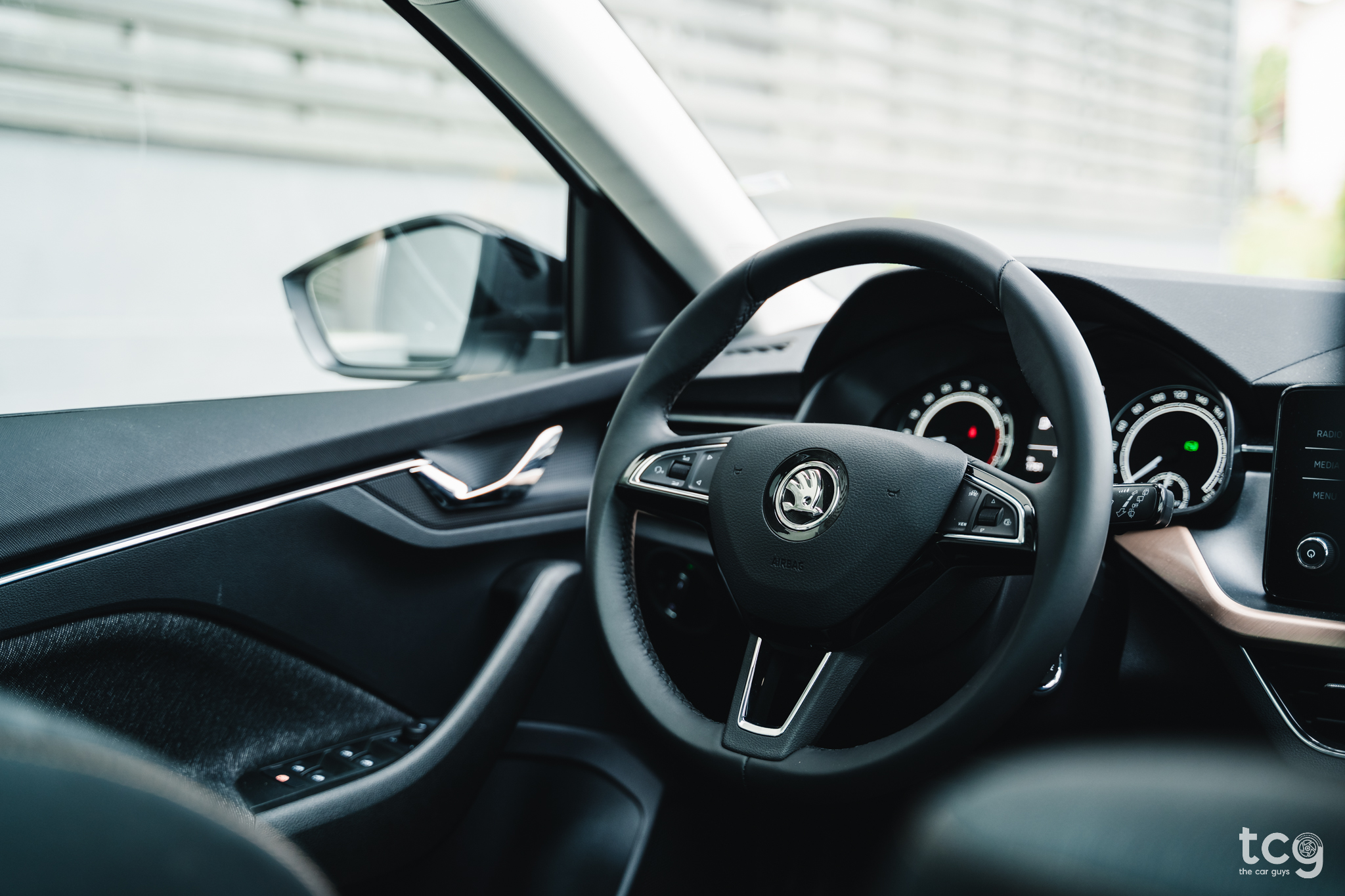 The infotainment system is easy to use, has great graphics and it has Bluetooth connectivity, USB-C ports and Smartlink as standard. Wireless Smartlink for Apple CarPlay is an optional extra (45 Euros) but I'd definitely get that since I like using Waze and Spotify on the screen itself.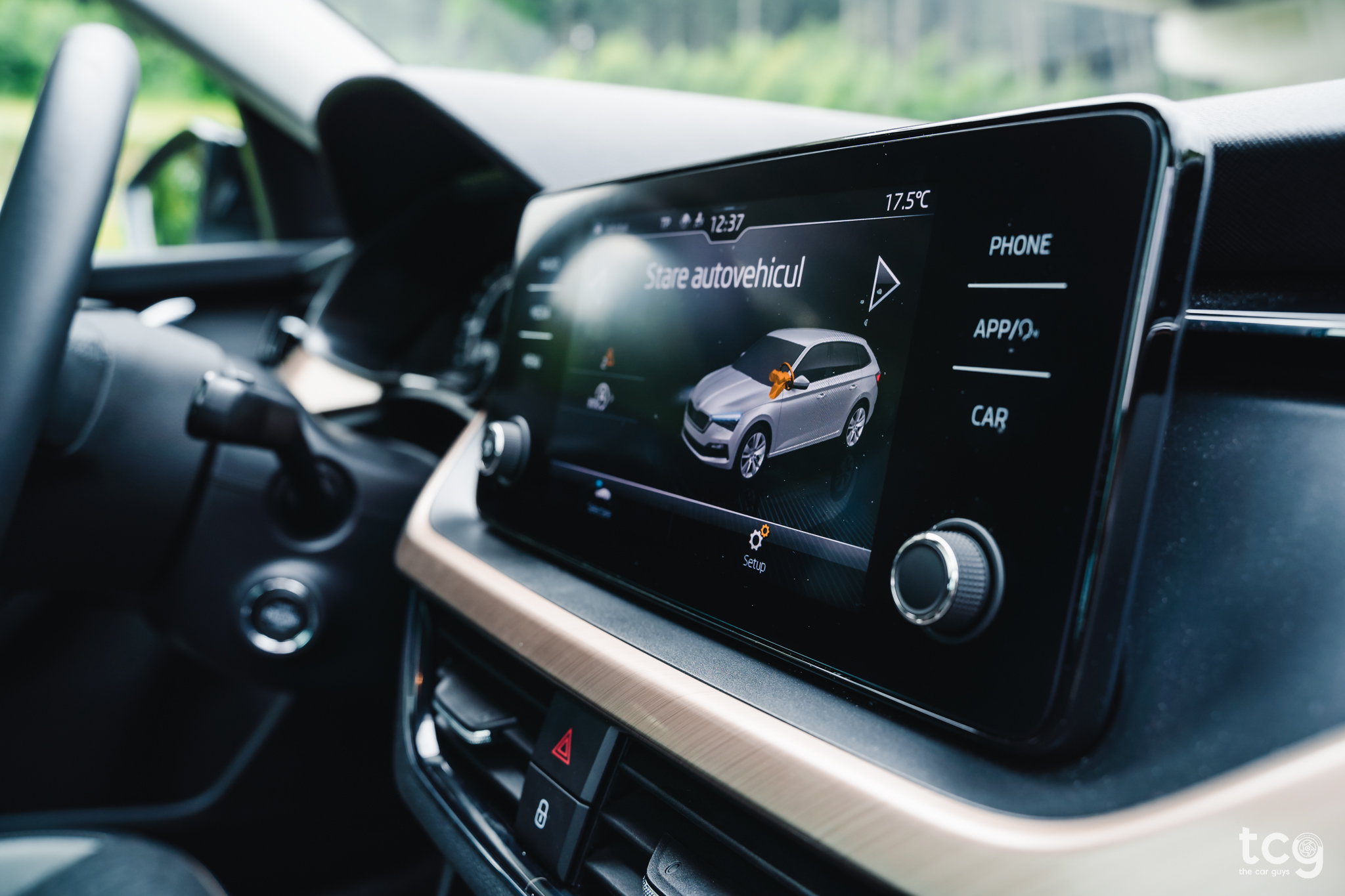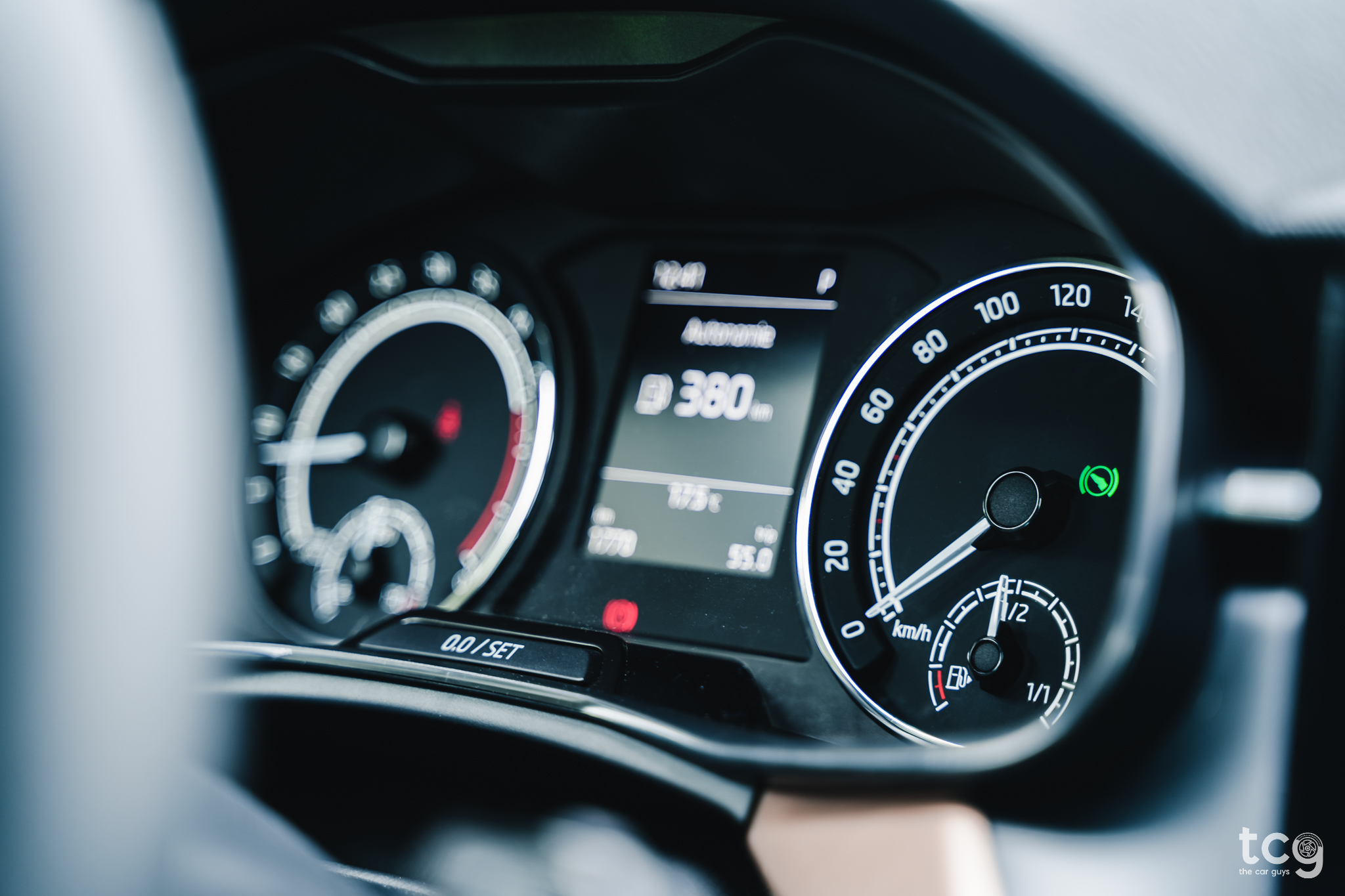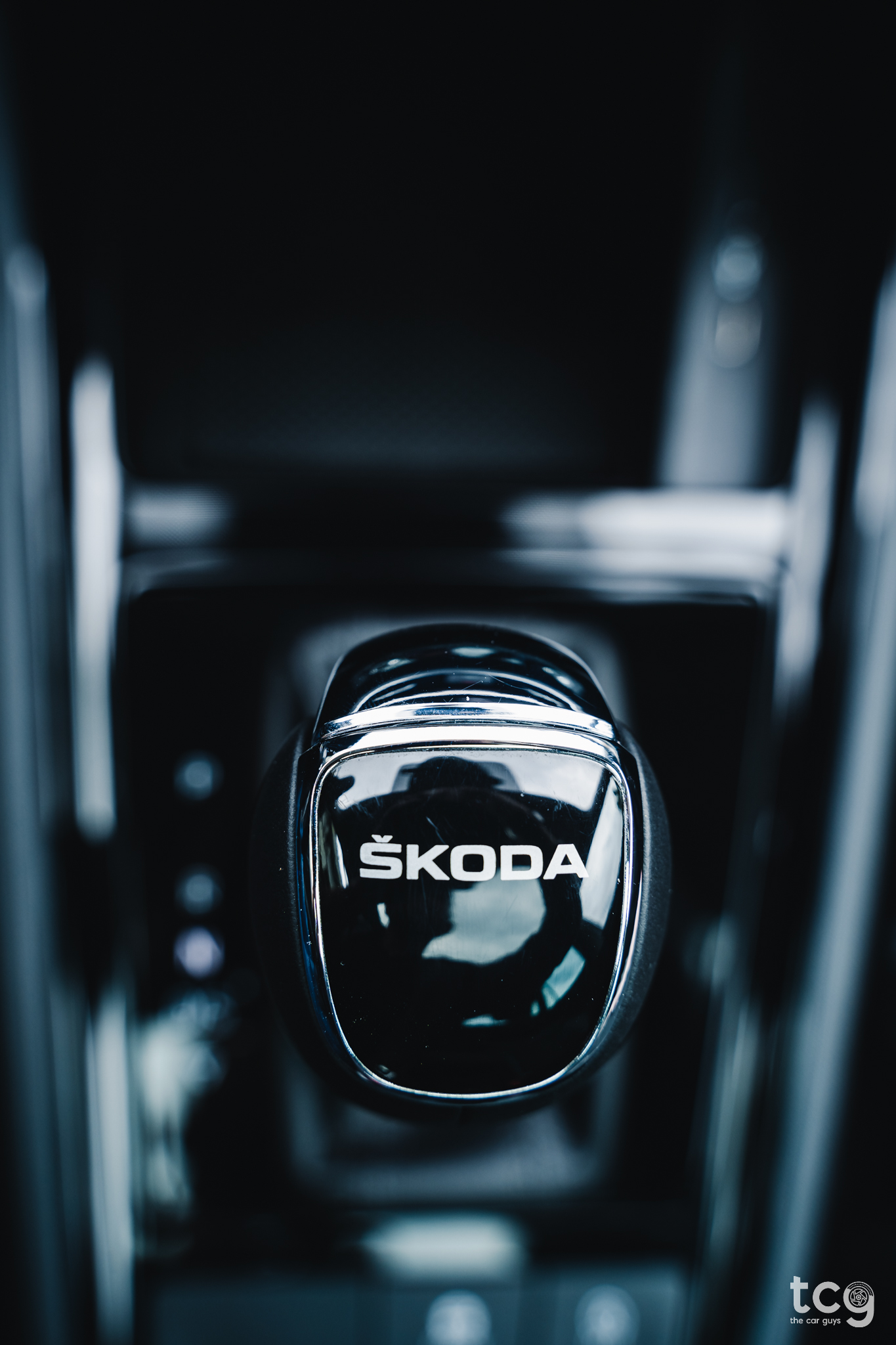 All-round visibility is pretty darn good in this car, I was actually surprised by how good it is as I had no problem parking it or seeing people crossing the street - thanks to relatively slim windscreen pillars. Rear parking sensors are standard but front parking sensors and a rear-view camera are an optional extra (not really that expensive though). Basic LED headlights (halogen bulbs) come as standard and you do have to pay a little extra to get the "TOP LED" ones but again, they are well worth it since they are far more illuminating at night - safety first, right?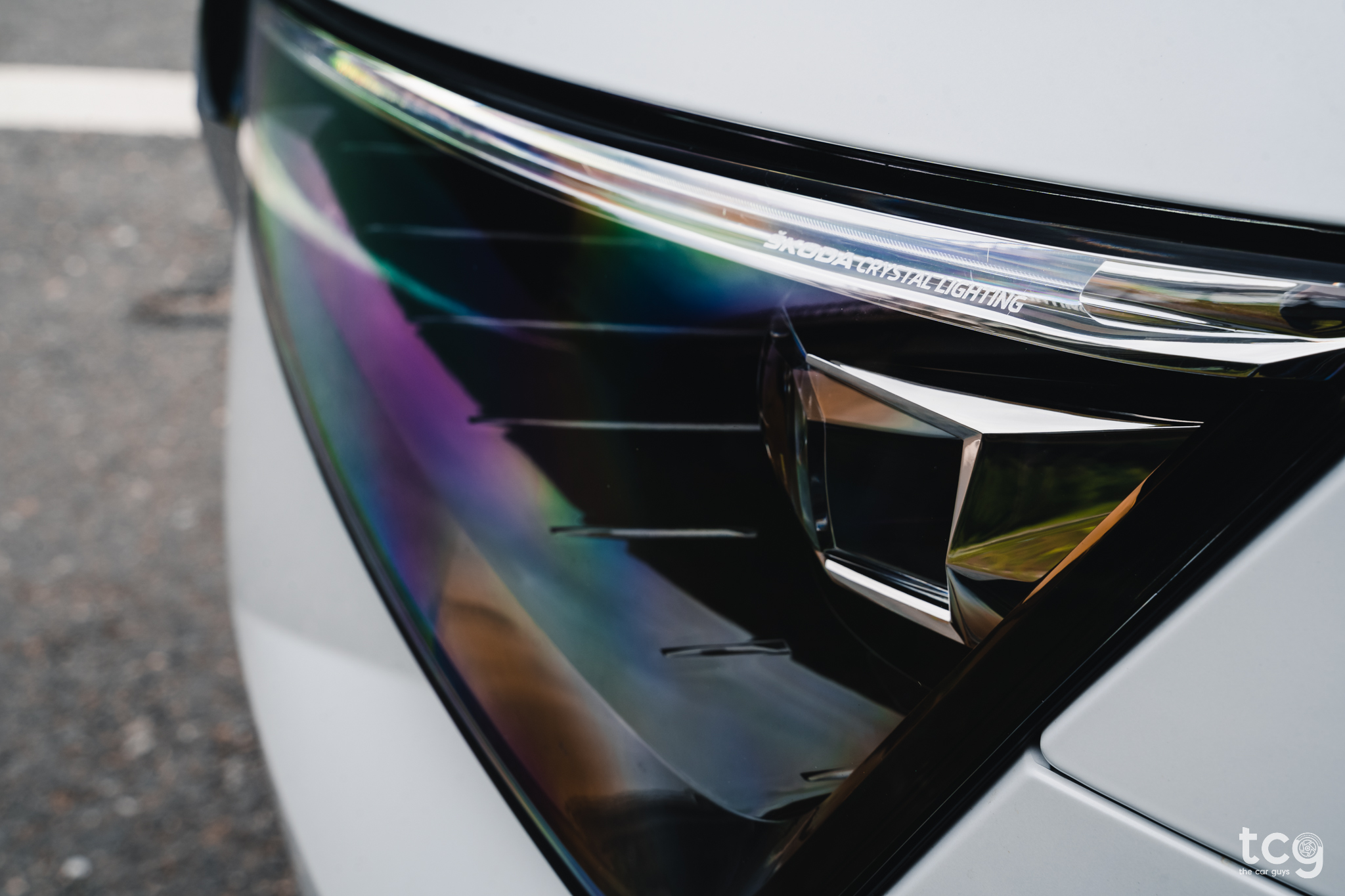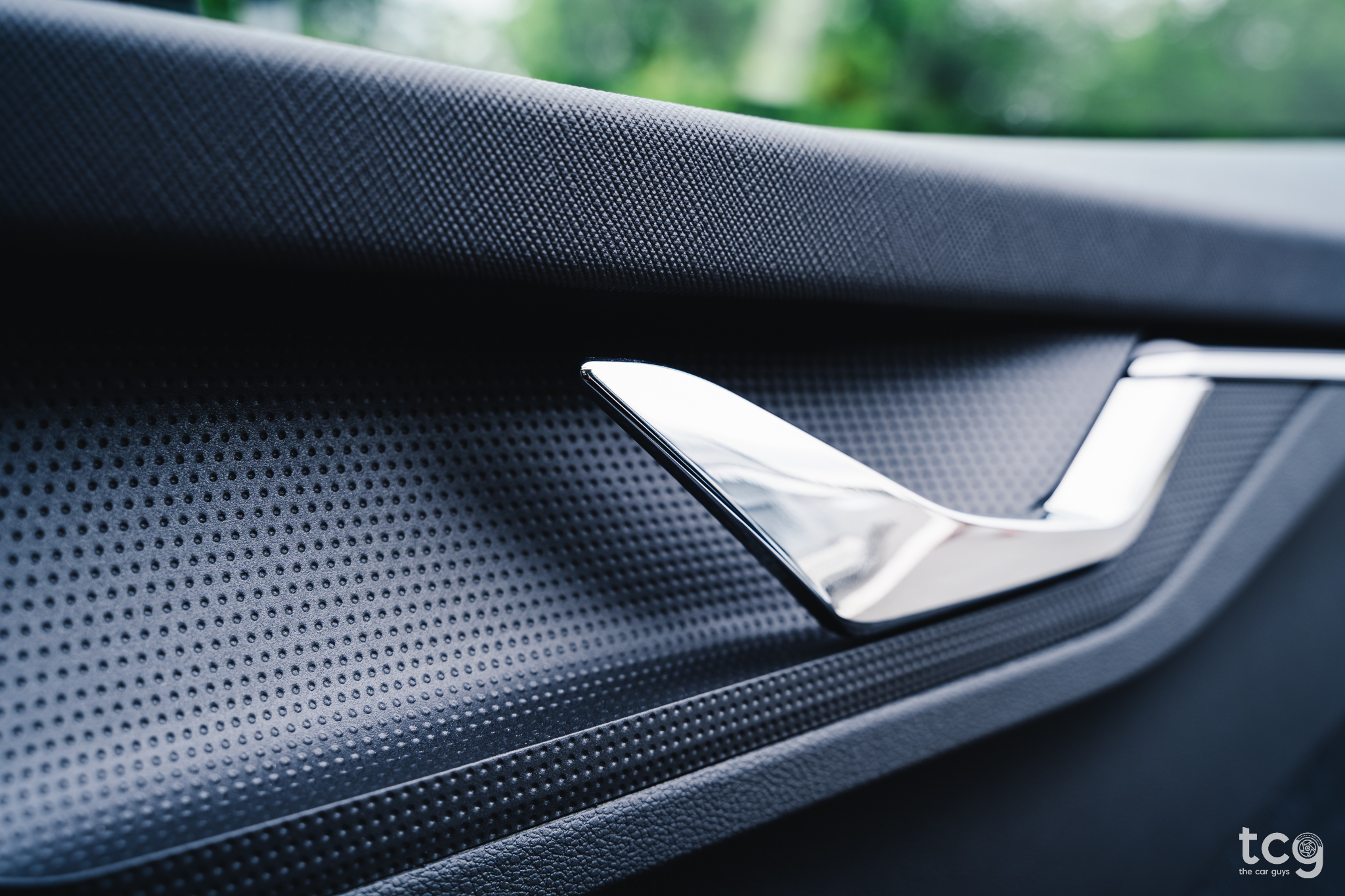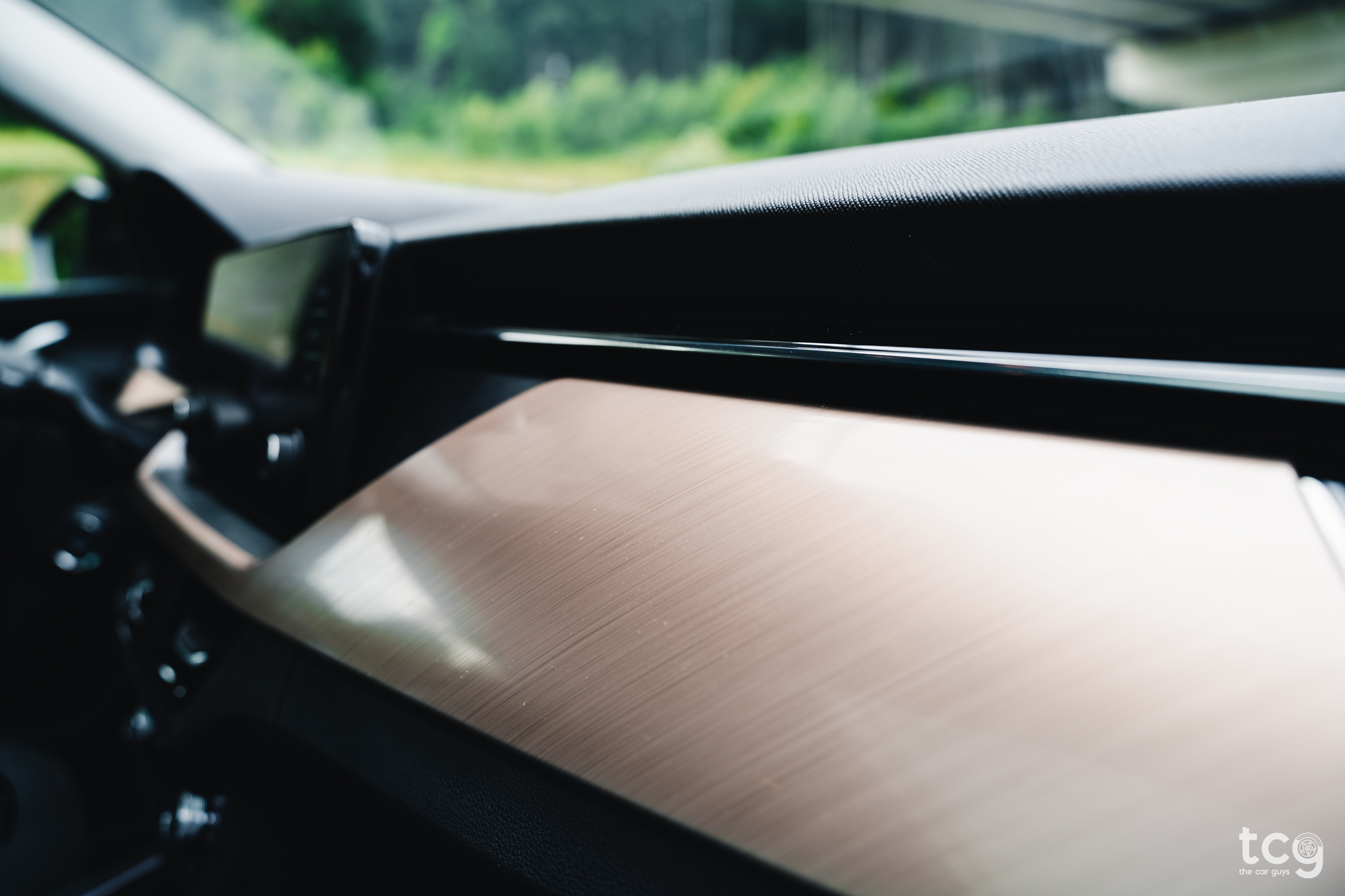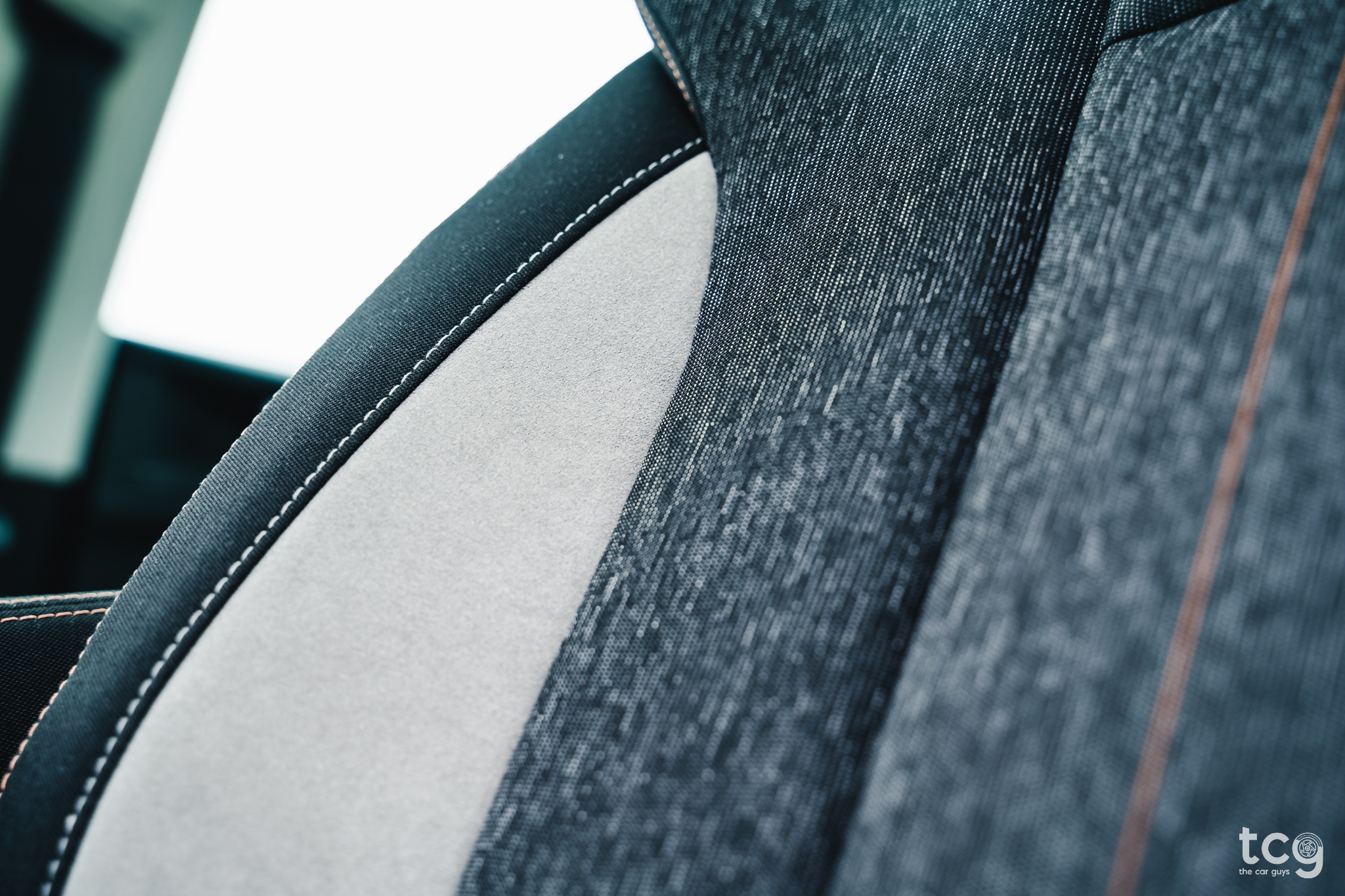 Interior quality is okay, not the best, but okay. Even though it looks good and everything is placed in easy-to-reach spots, some of the materials they used are not that soft to the touch, and kind of cheap feeling. Yes, the top of the dashboard has soft-touch materials but there's lots of hard, scratchy plastics all-round the cabin. It looks good - but it doesn't really feel that good, unfortunately!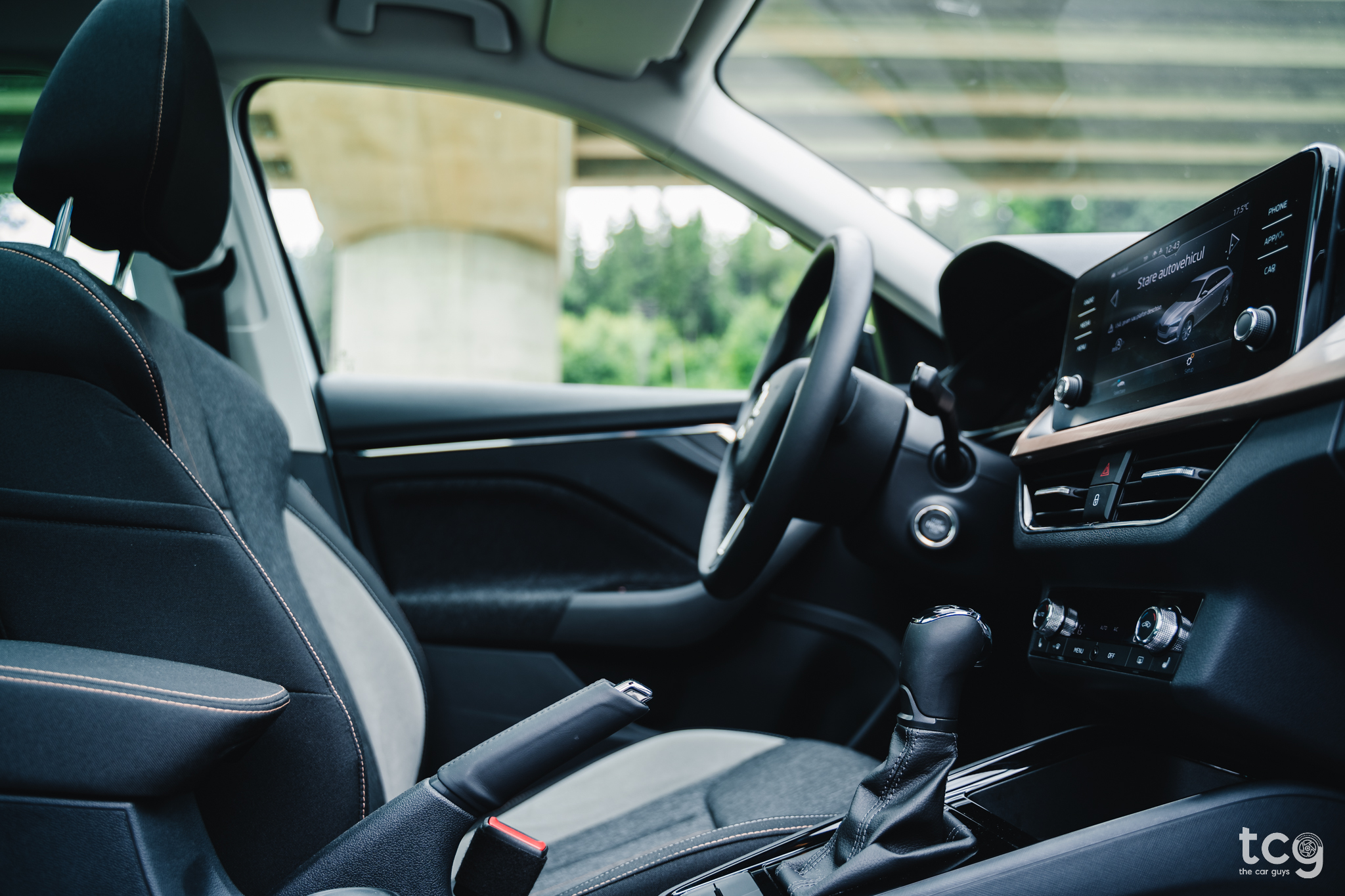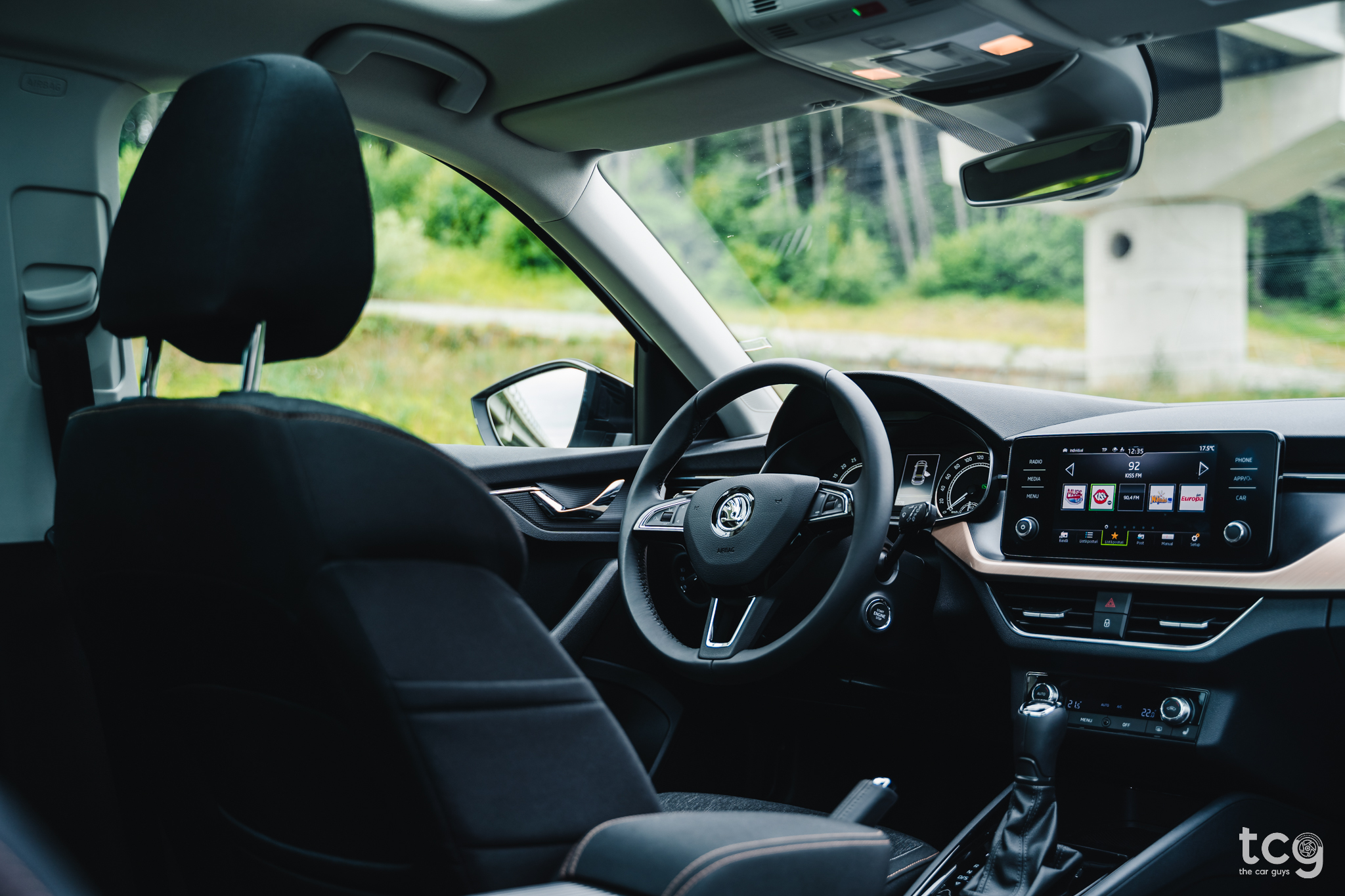 Room in the back, as in every single Skoda I've tested so far, is massive! I honestly didn't think I could fit that easily in a car from this class. There's loads of knee room and what surprised me the most is the amount of head room that you get in this car. There's also a great deal of storage spaces scattered throughout the cabin! The rear seats split 60/40 and the boot capacity is 467 liters which is more than enough & best in class.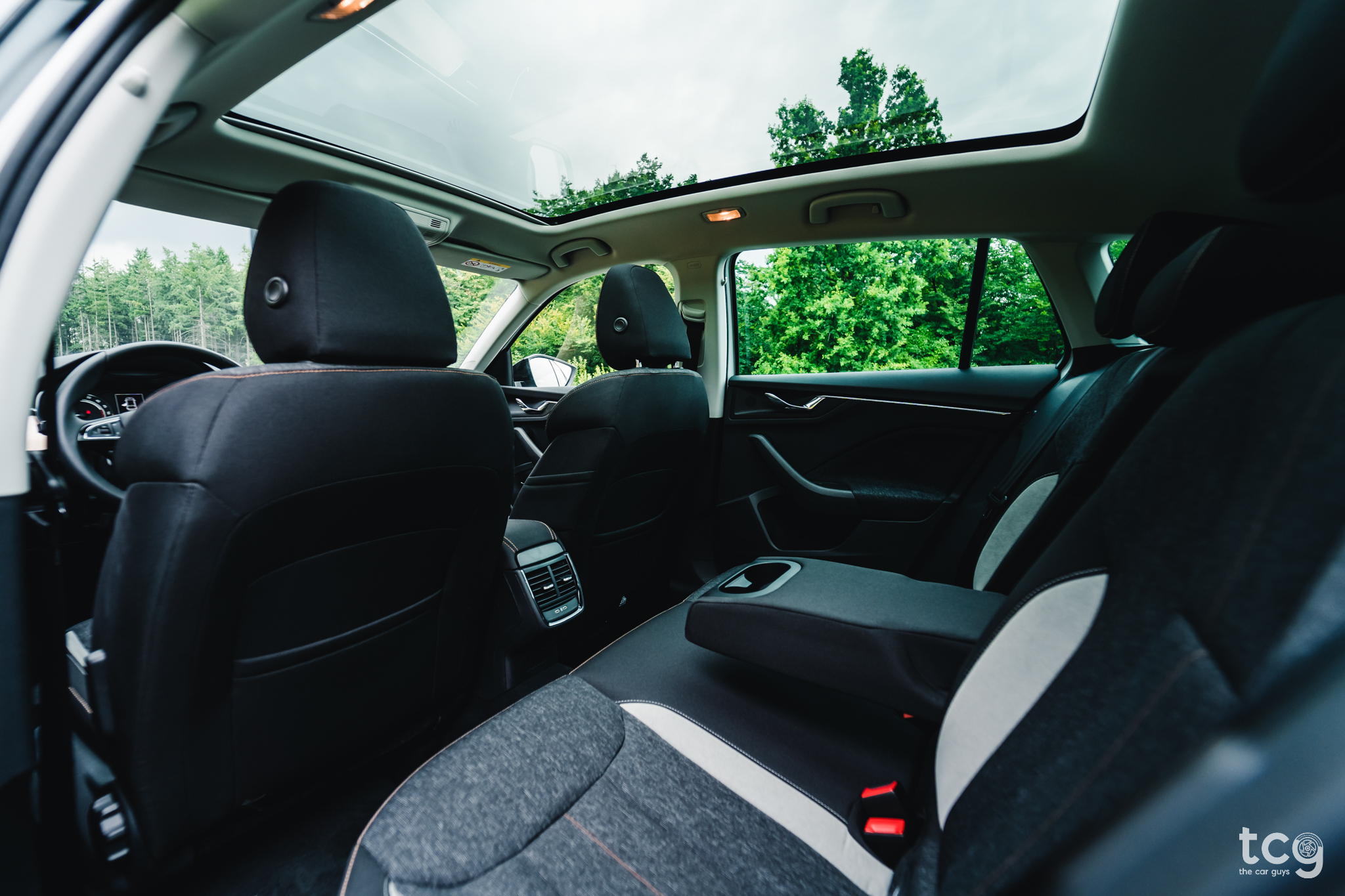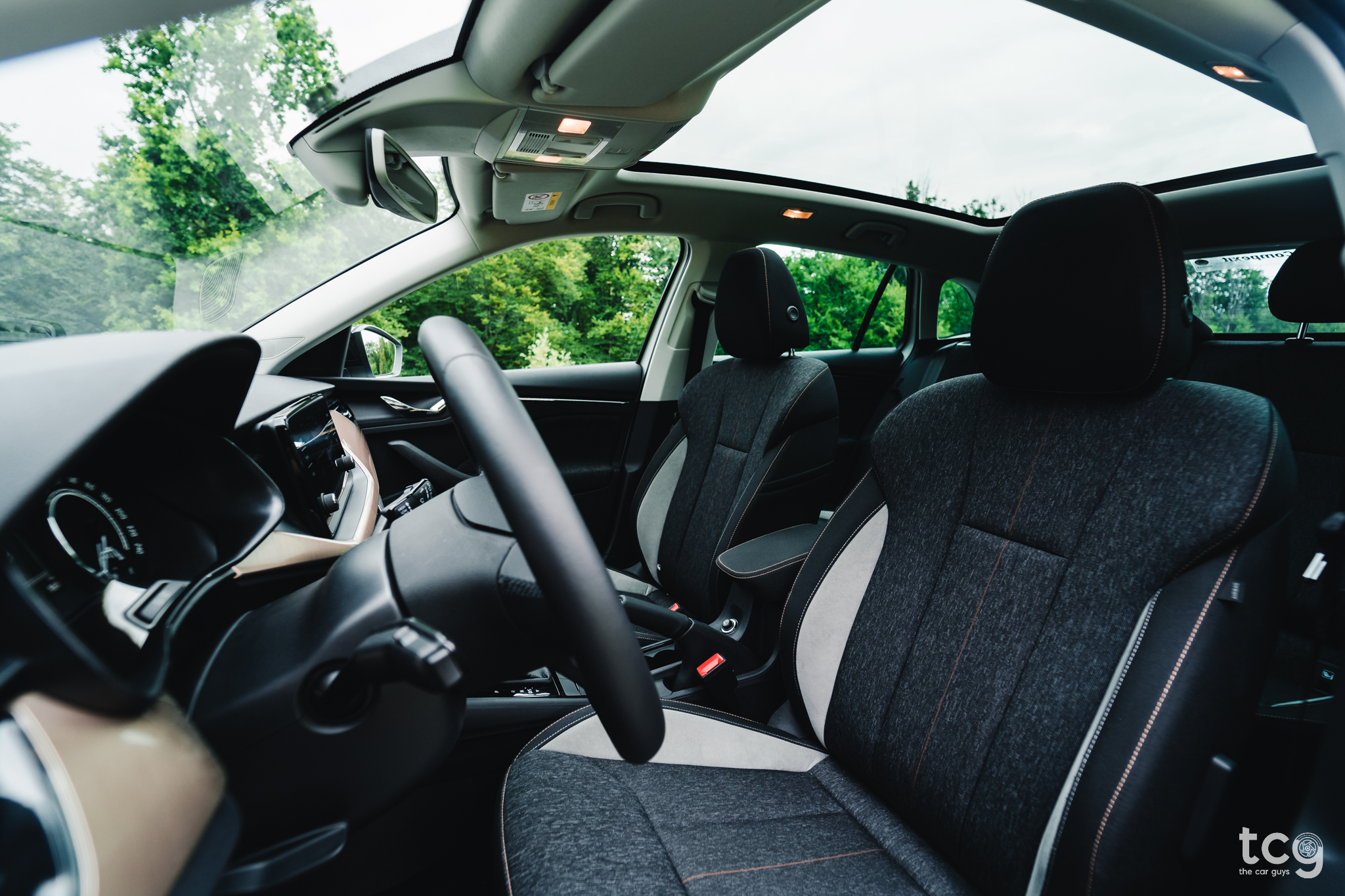 ---
3 things I really like about the Scala:
It's decently priced to buy and cheap to run!

It looks different, but a good kind of different! The Skoda name on the tailgate really makes it pop-out from the crowd!

The small things they think of like the ticket holder mounted on the A-pillar, an ice scraper stored within the fuel-filler cap, hooks in the boot, etc.
---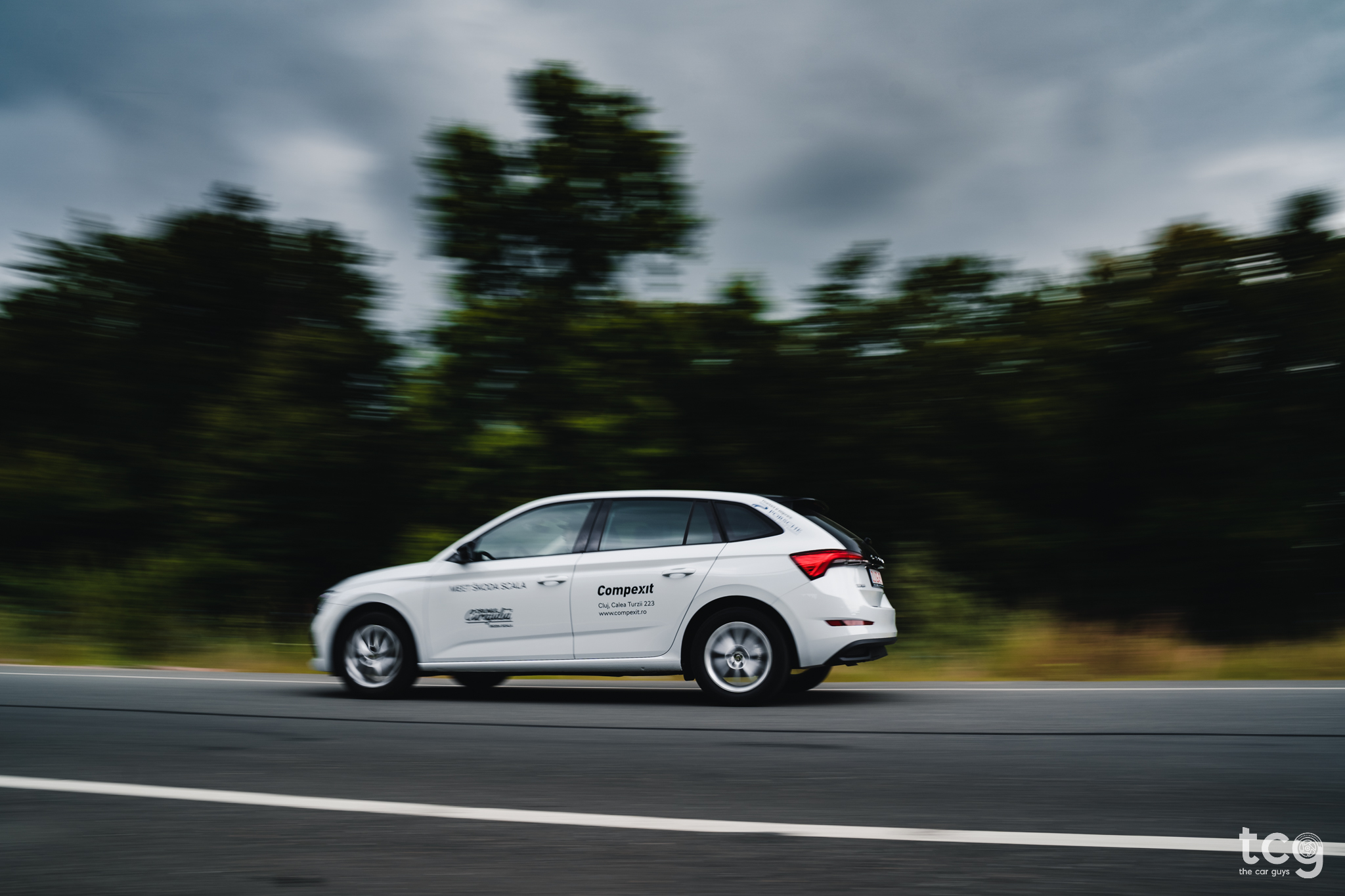 ---
3 things I really don't like about the Scala:
Some of the optional extras can be quite expensive!

The TDI engine is rattly and loud.

The DSG gearbox is kind of tempermental sometimes.
---
Would I get this car? Yes, I'd definitely take the Scala as a daily driver!
Price of the tested model: 21,951 Euros (VAT Included)
---
Engine and Gearbox: 1.6 TDI with 115HP and 250NM of torque + 7-speed DSG automatic gearbox.
Photos by: Dan Grigore
Thank you Compexit Skoda for lending us the car!
---