After my first review of an electric car, we managed to get the e-up! from Autoworld Volkswagen for an entire weekend and even if the range could be higher, it was a fun weekend with this little car.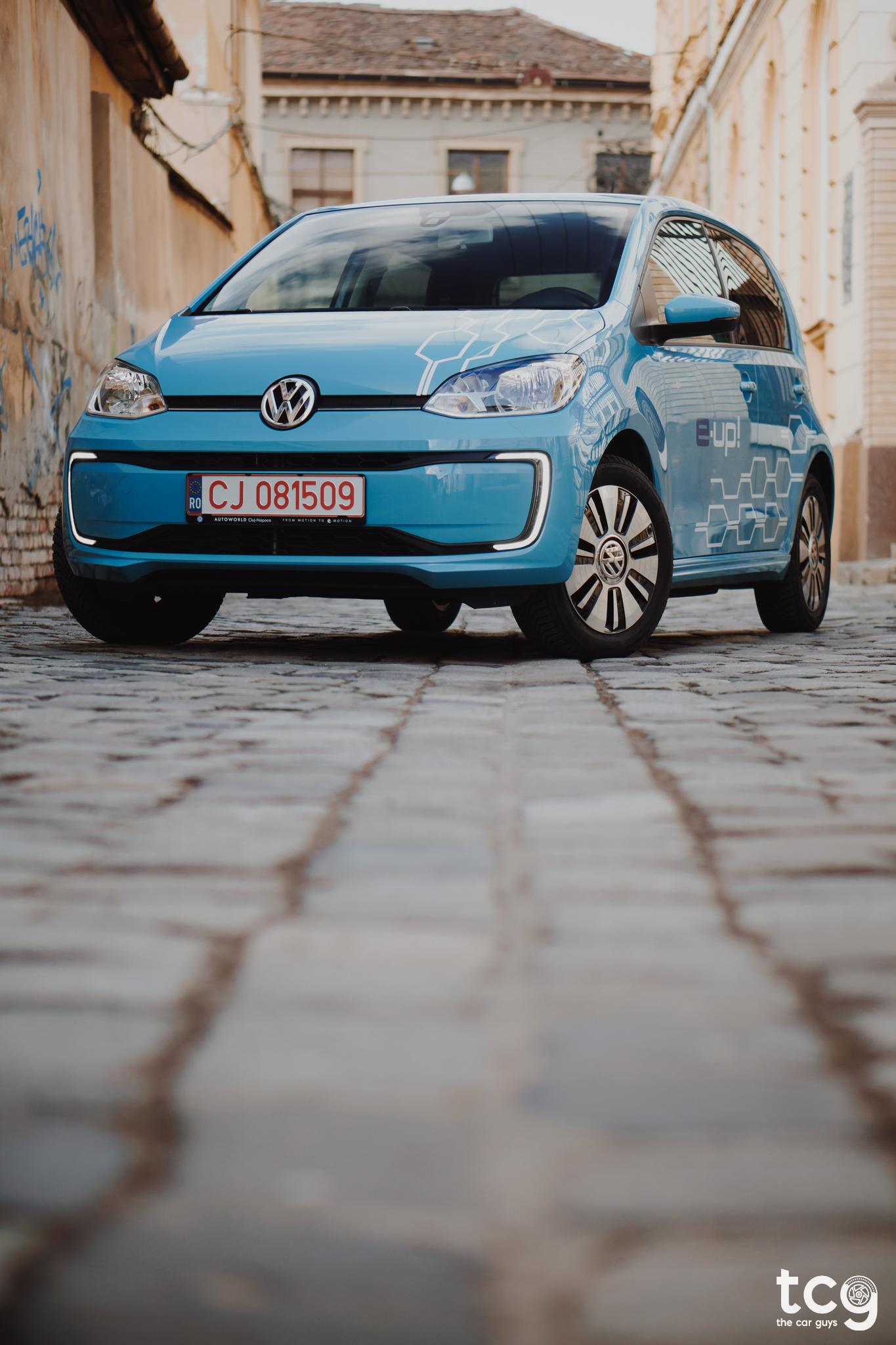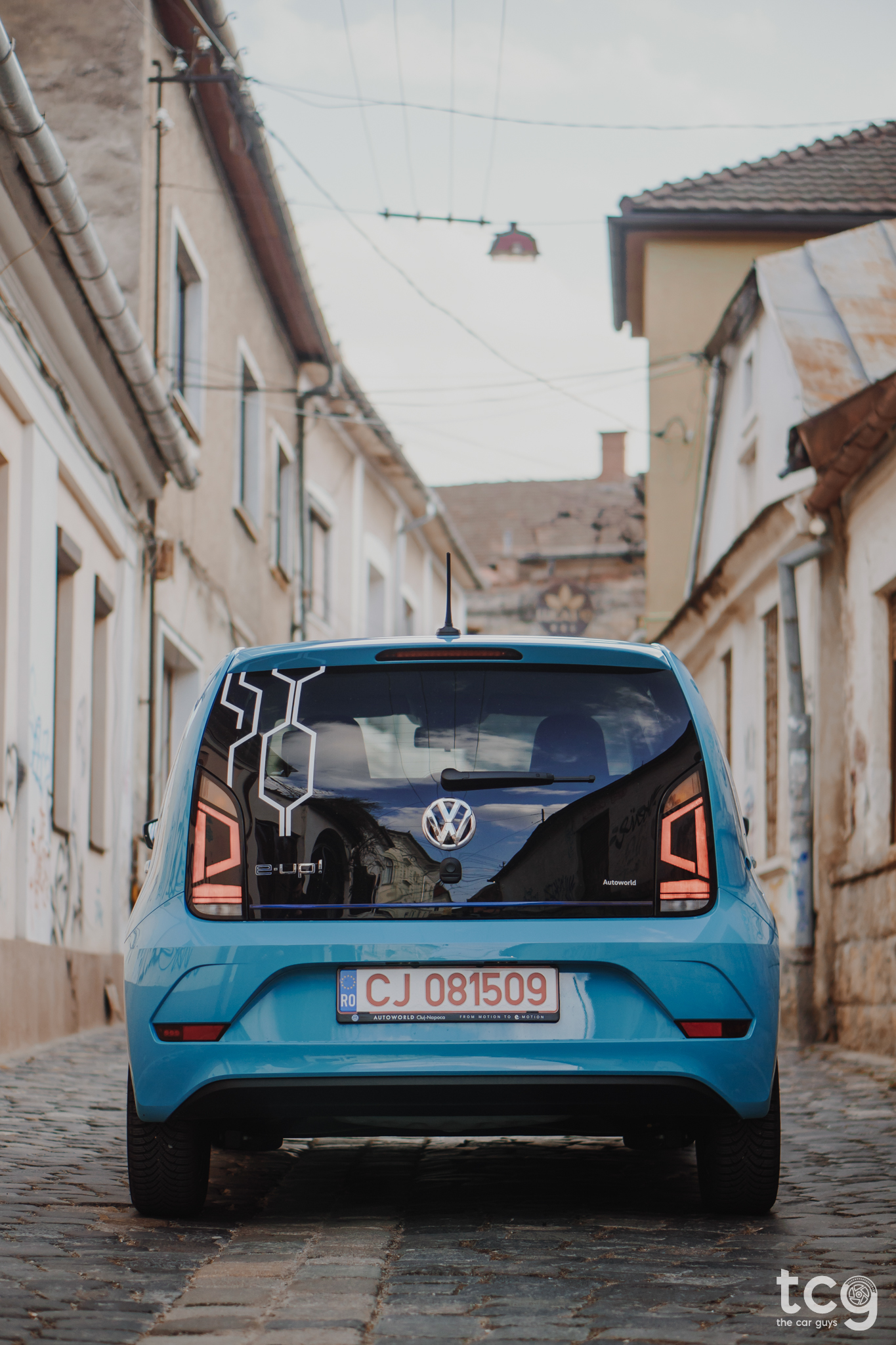 I'll start this review by telling you that this car is no longer available to order at Volkswagen, because VW is preparing to introduce the new ones that will have an extended range of 300km, which is great!
This e-up! is not very popular as an electric car and it's a shame, because this car is really nice to drive in the city, easy to maneuver and because of its electric power, it is very nippy.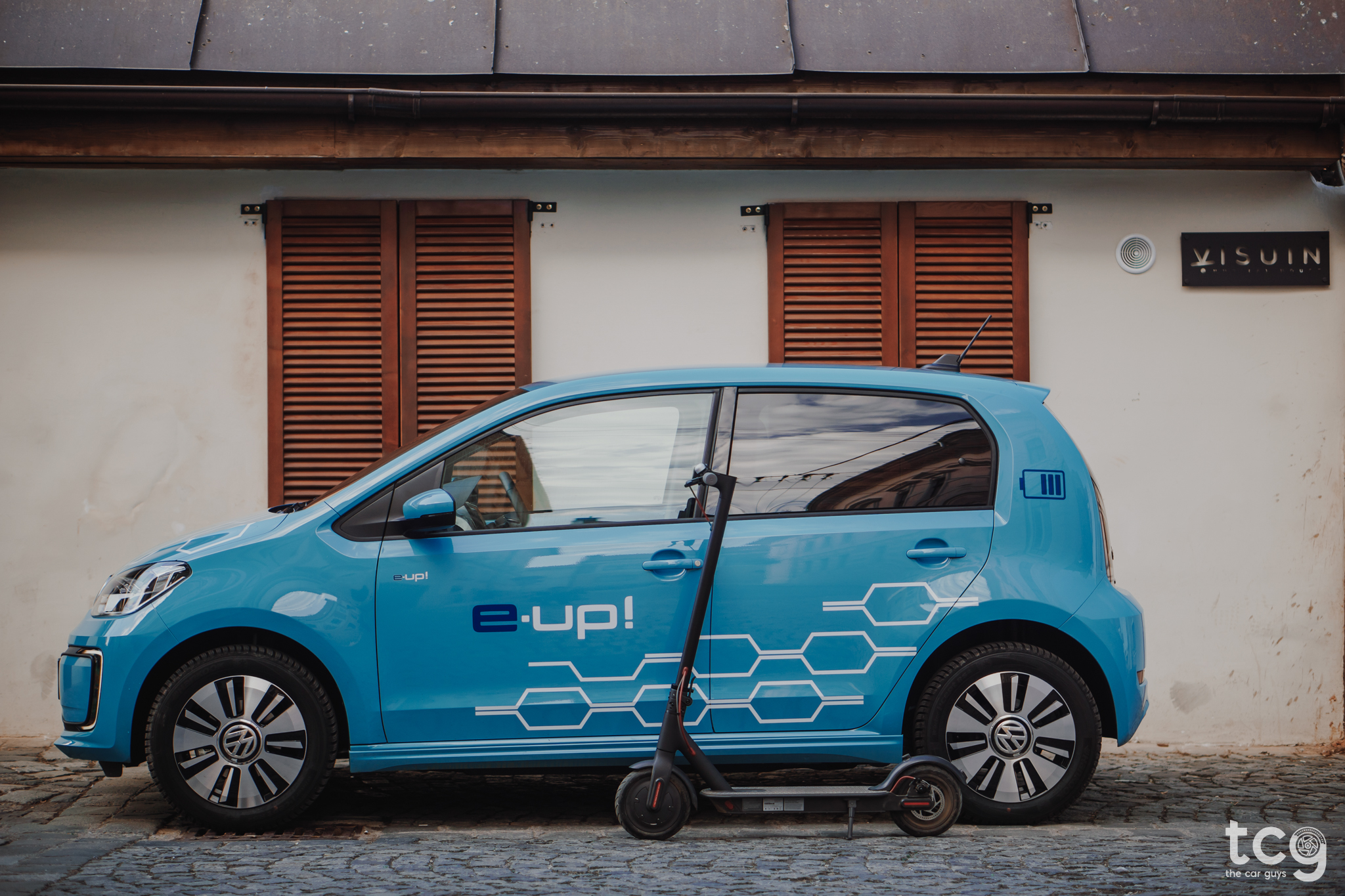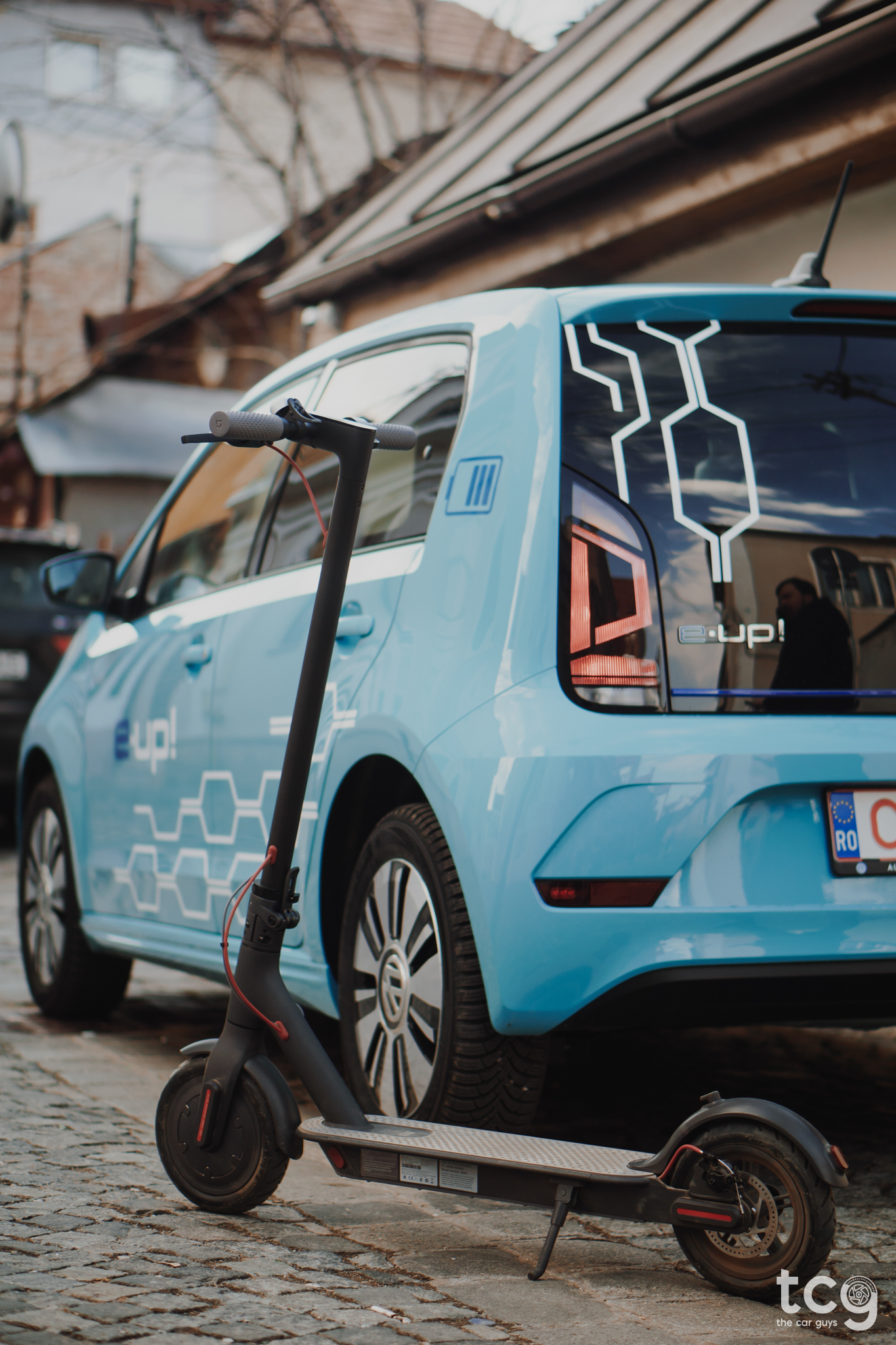 The car is really quiet and it even has a mode called e-Sound that produces some extra sounds to be heard in traffic or parking lots, because when you drive it normally the electric engine doesn't make any sound at all. This is one of the reasons why I enjoy electric cars, how quiet everything is and the fact that there's no vibration, no engine sound, nothing else to bug you ... except for the range.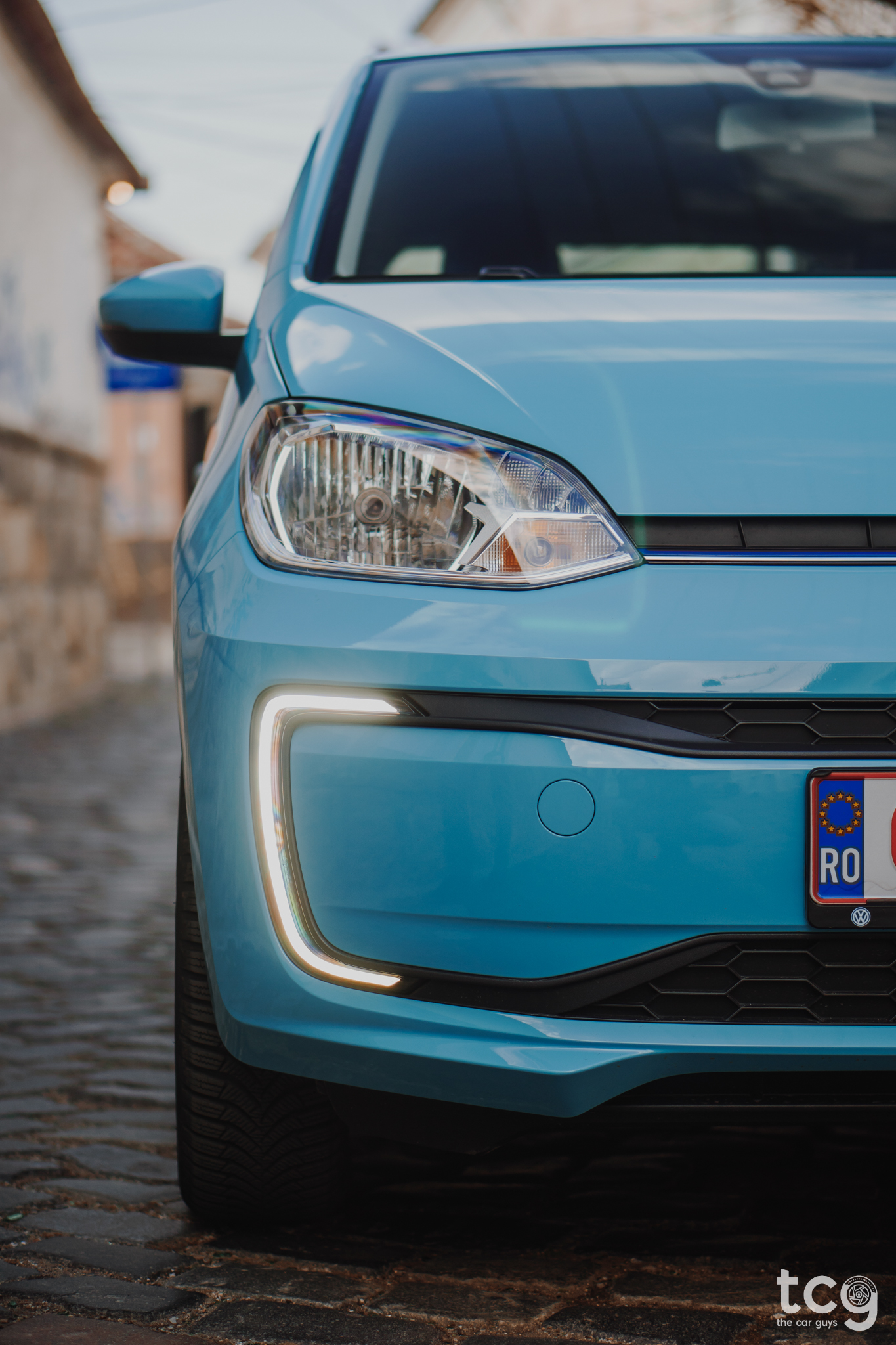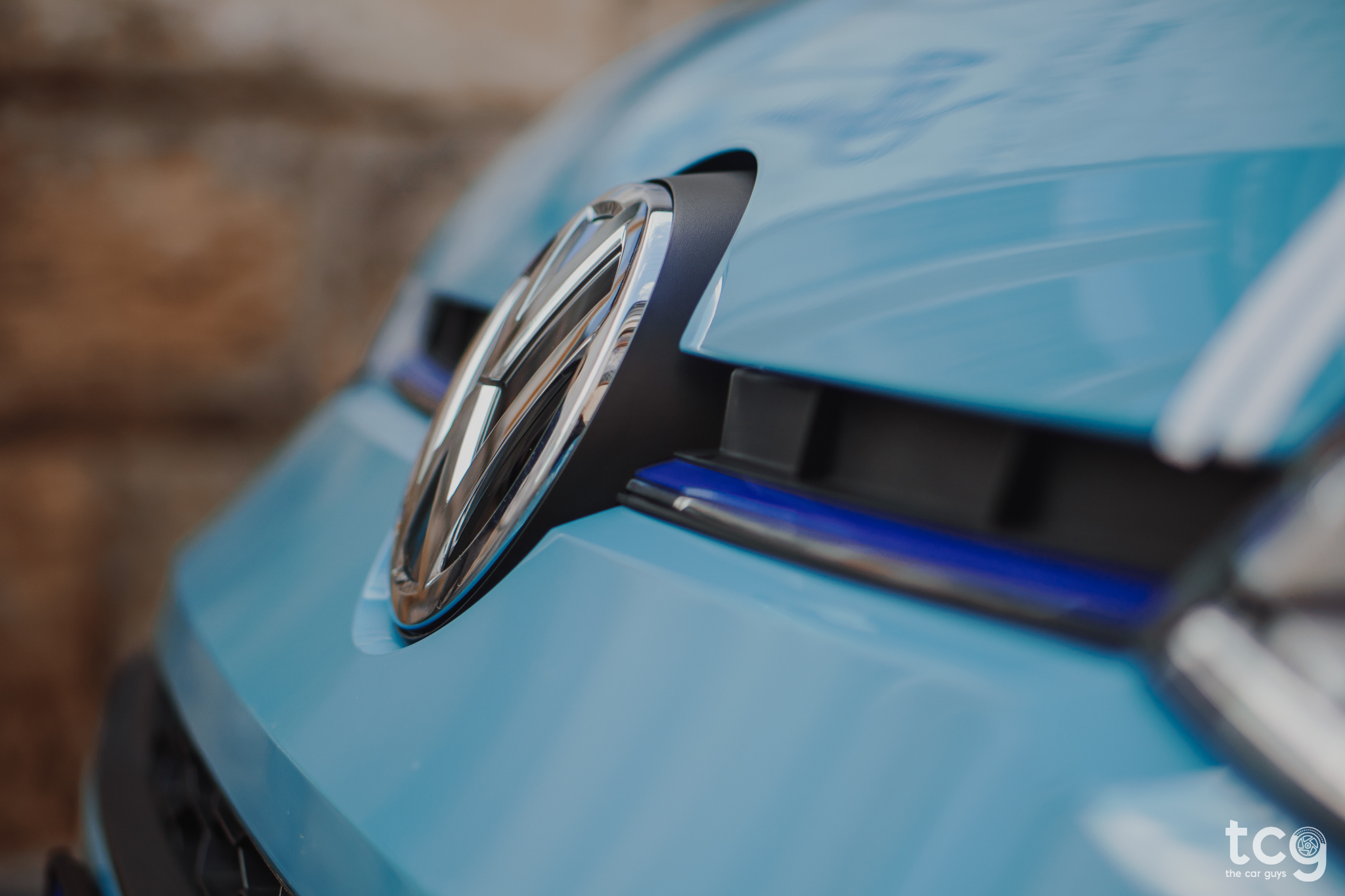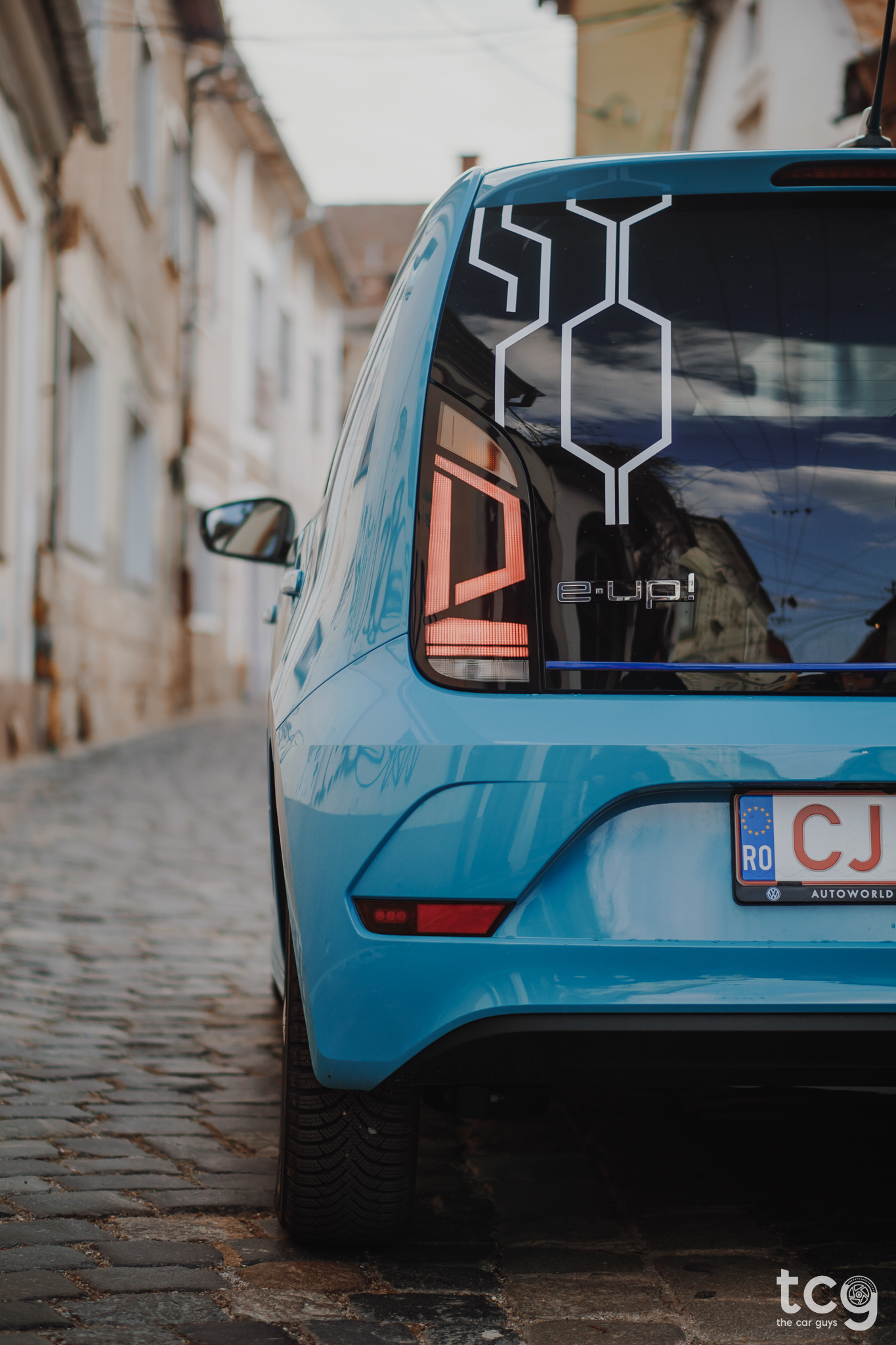 The official range for the e-up! is 160 km - but in Comfort or Eco, I don't think you can go beyond 120 km with a full battery. Probably in Eco+, but I really hate the Eco+ mode in any electric car because it turns off the climate control and any comfort options that you might have on the car as it wants to save some energy. It's good to have this mode for emergency situations, but I won't use it on a daily basis because I use a car for the comfort it provides, otherwise I would use public transportation.
If you want to buy this car second hand, you should think of this car as a maximum 100km per charge car and if that's enough for you, then you should be fine.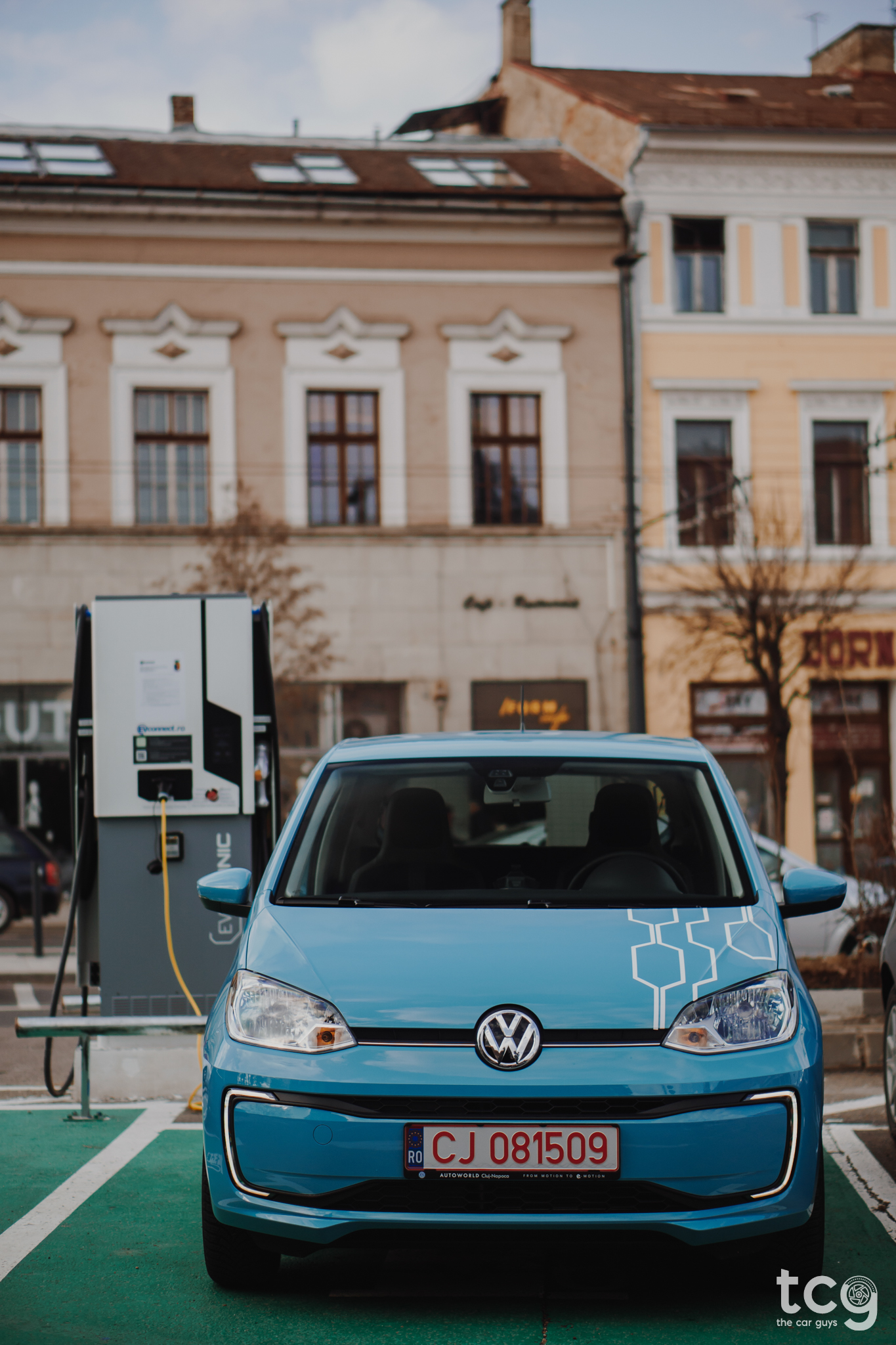 To be honest, I really don't know all the details about the sockets and how they're called, but we didn't have the double socket so the charging was pretty slow and from my estimations, from 12 km range (can't remember the percentage) to full, it will take around 4.5 hours. If you want to charge it at home with 220V, it will probably take around 8 to 9 hours. It is kind of slow.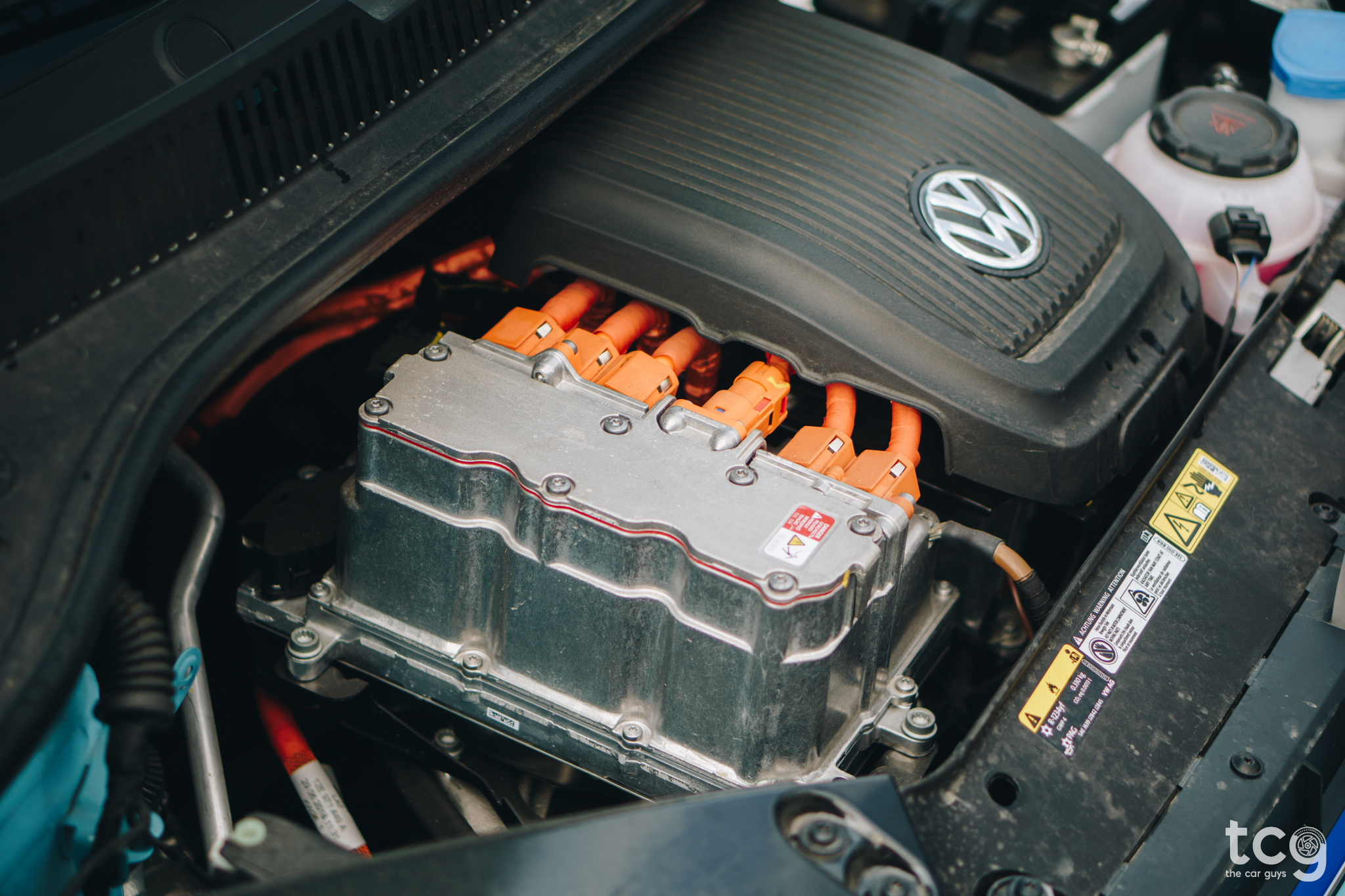 And if you really want an up! and electric is not your thing, then you should just go for the petrol engine - 1.0 starting at 60 HP up to 90 HP. After I'll tell you a little bit about the performance of the electric engine, we'll talk about design, interior and everything else, topics that also apply to the petrol car.
Regarding the performance of the electric motor from the e-up!, the numbers are not very high as it produces only 82 HP with 210 NM of torque but the power is delivered from the beginning. It takes around 12.4 seconds to get to 100km/h and that's kind of slow, but this is a city car and even though I didn't time it, 0 to 60 km/h feels really fast and people were surprised by how quickly it accelerates from 0 to 60 km/h,so you don't really care about the 0 to 100 km/h.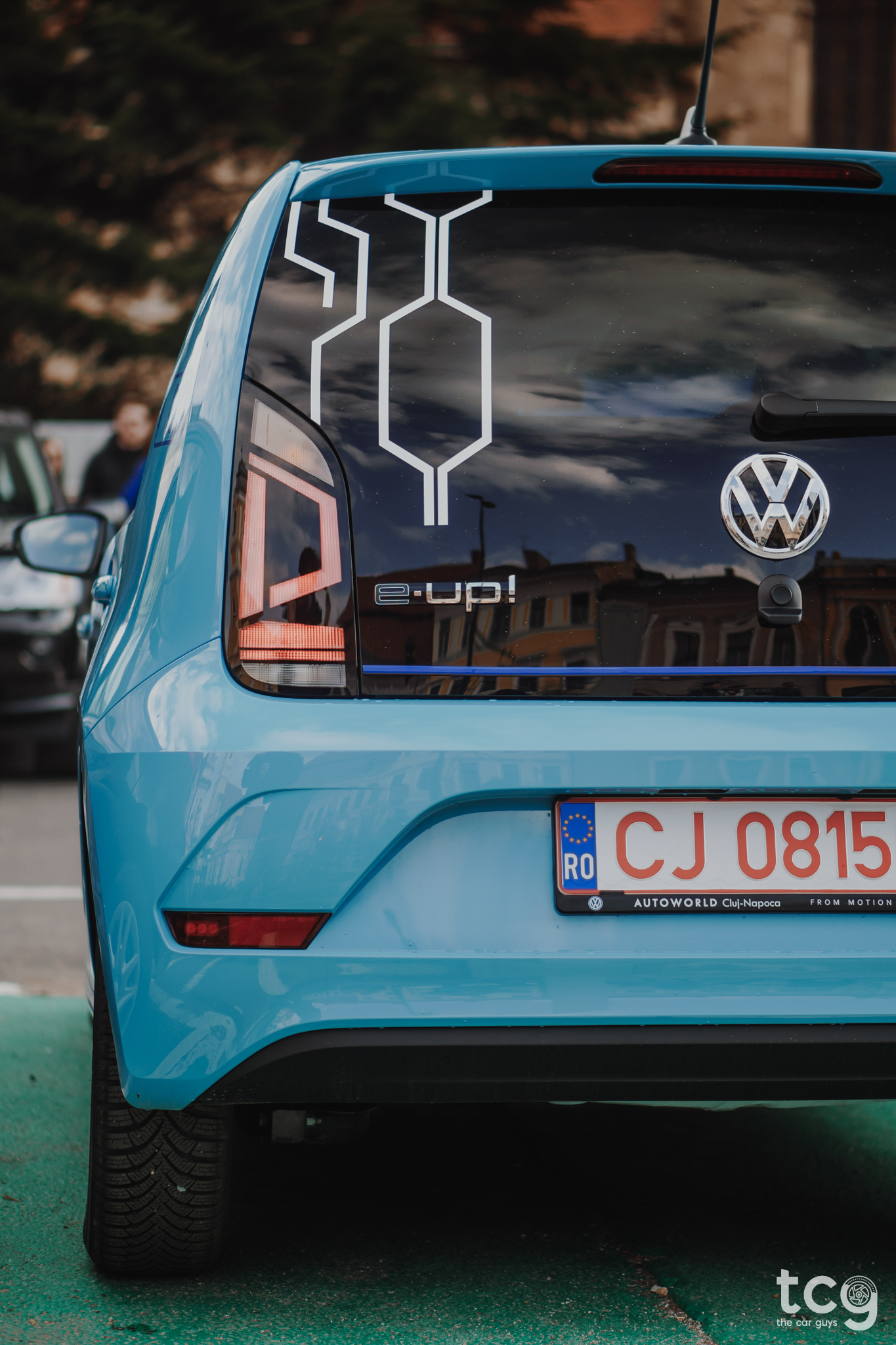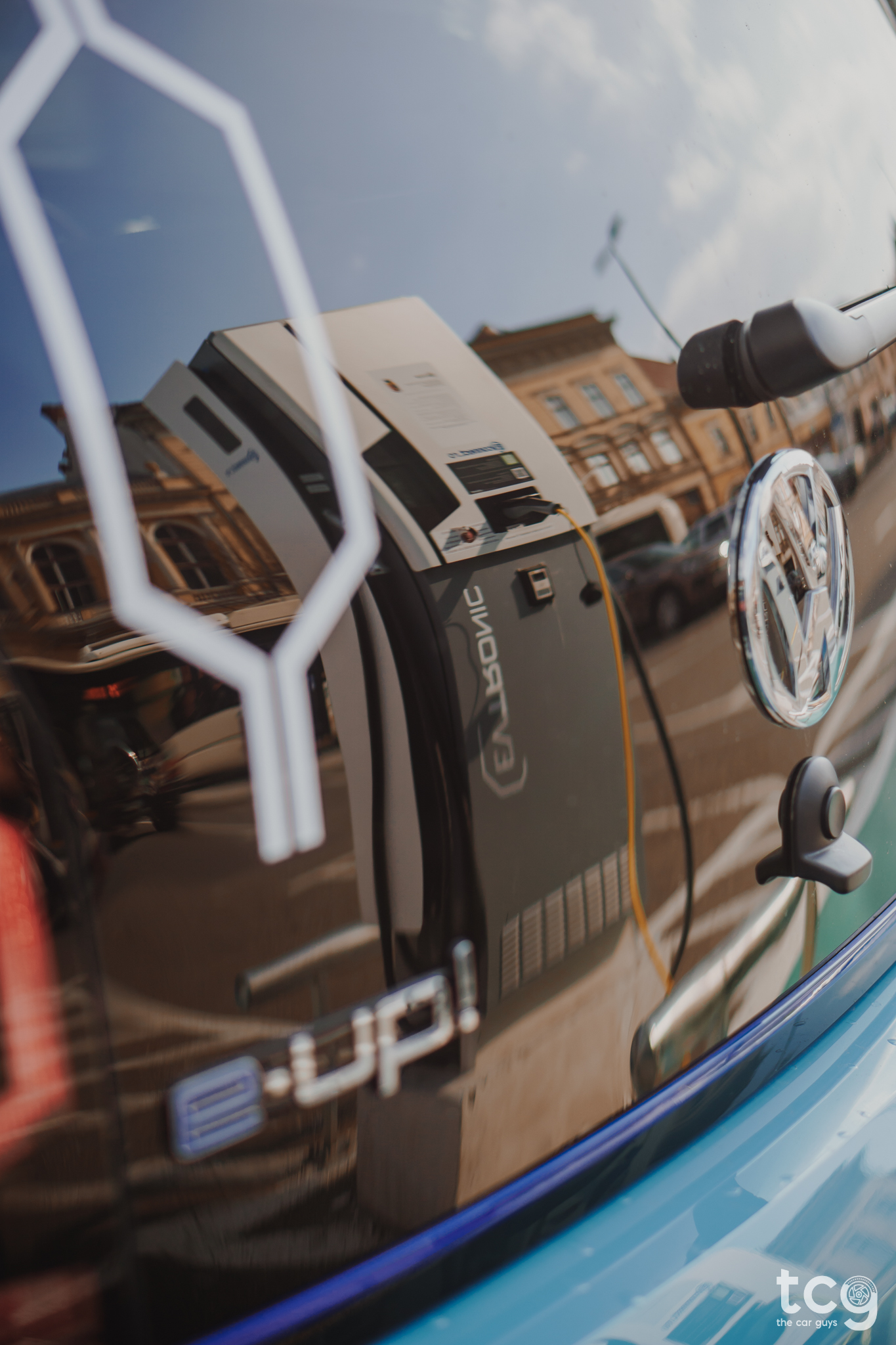 Design wise, the front of the car has 2 C shaped LED Day Running Lights that look really cool and it is the main differentiator from the petrol car, as these DRLs are not available on the petrol car. Then on the front, there's really nothing else that's special about it as it has regular halogen lights.
The e-up! comes with nice rims that have a special design to increase aerodynamics which also helps keep the range higher. As for the back of the car, it looks pretty similar to the regular UP, except for the blue line on the trunk and the e-up! badge which indicates that this is a fully electric car.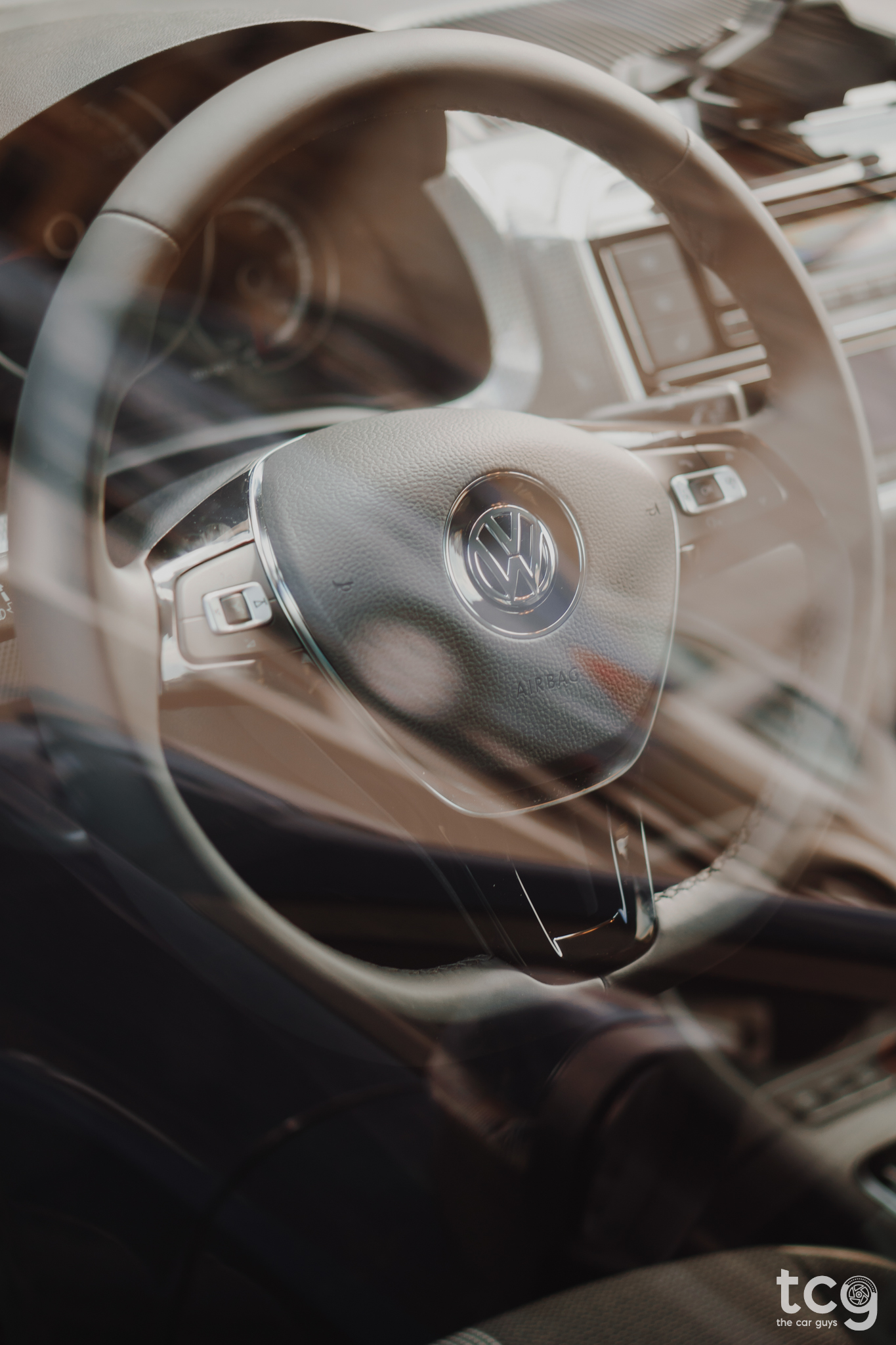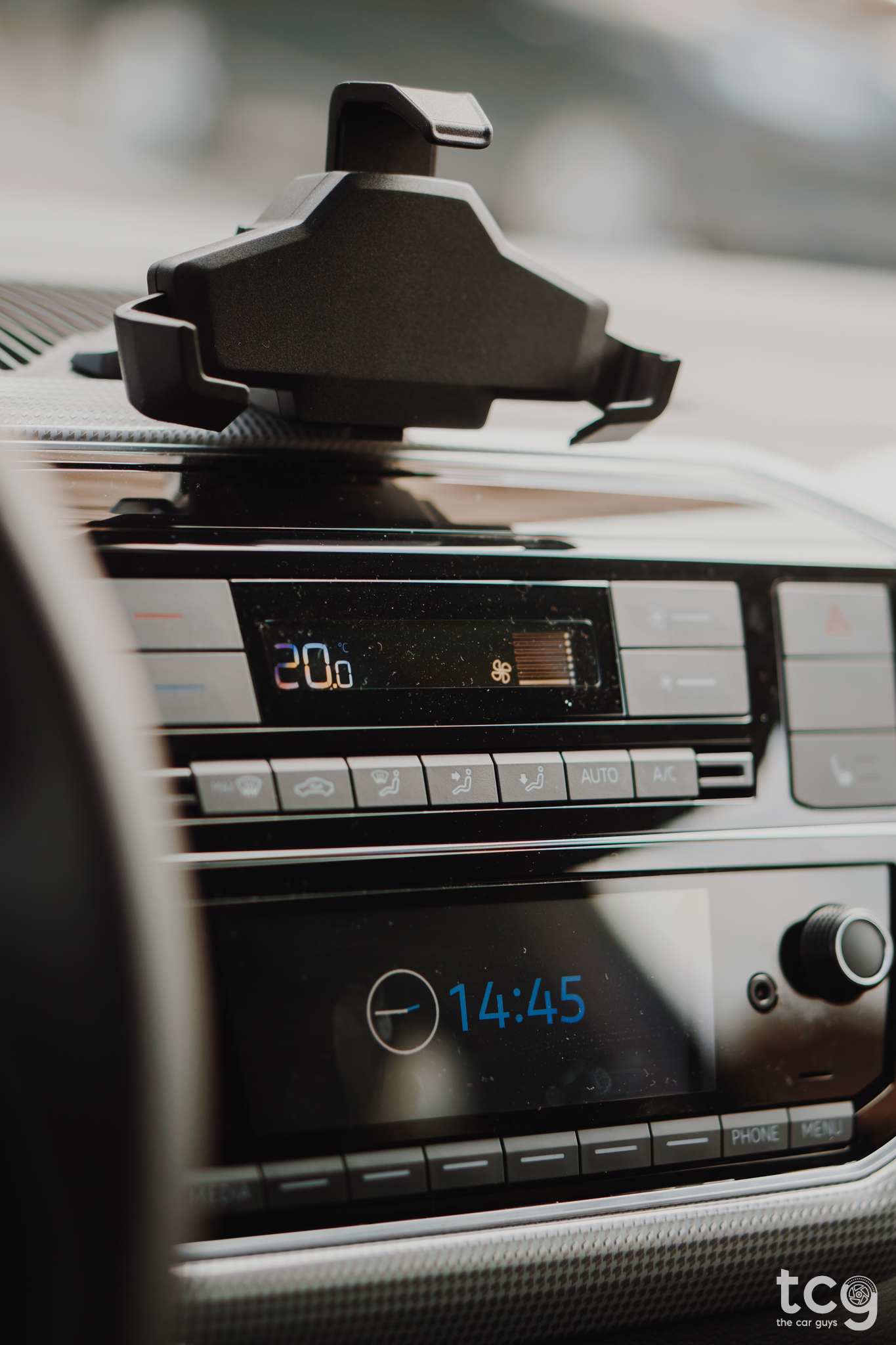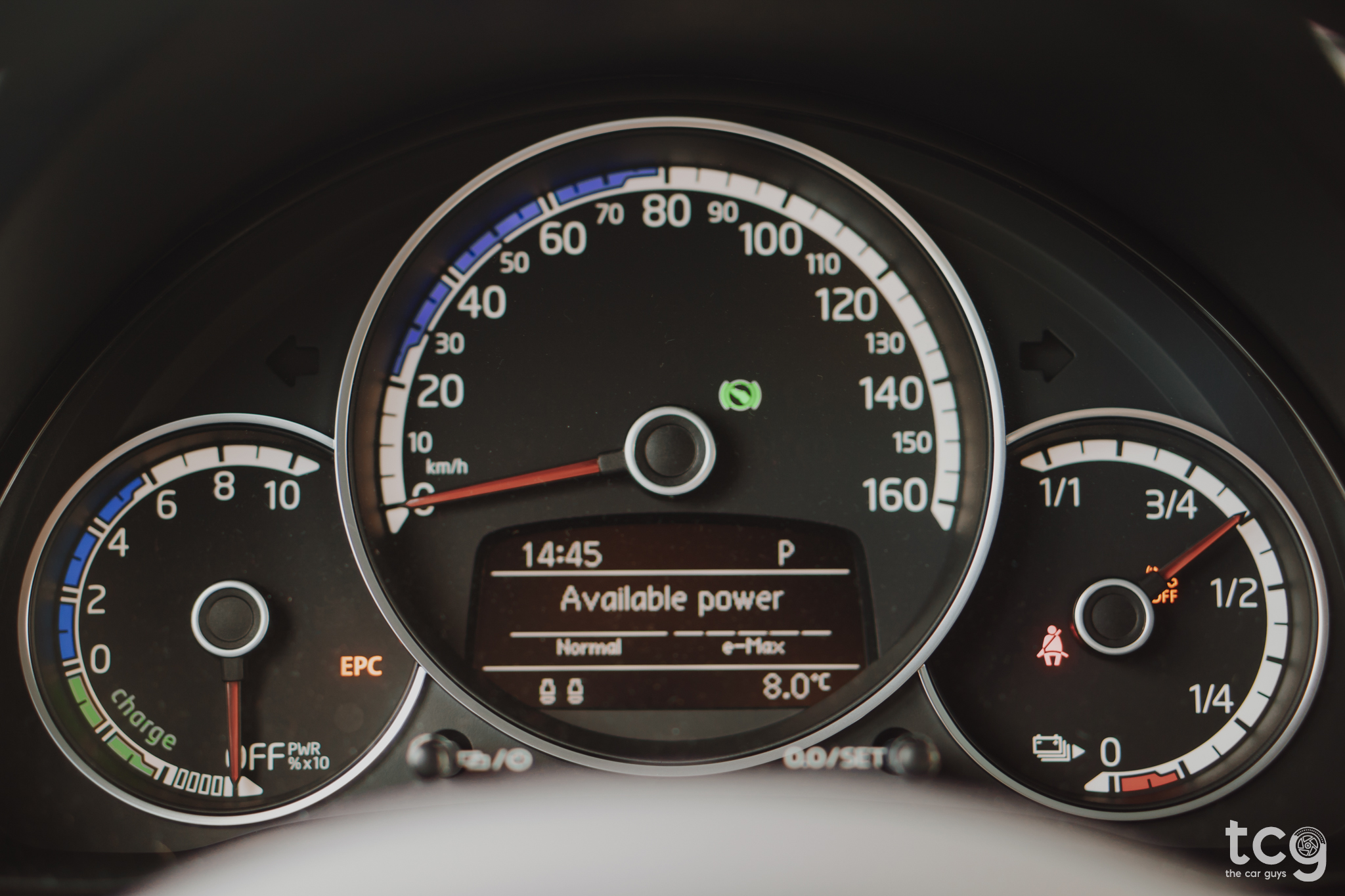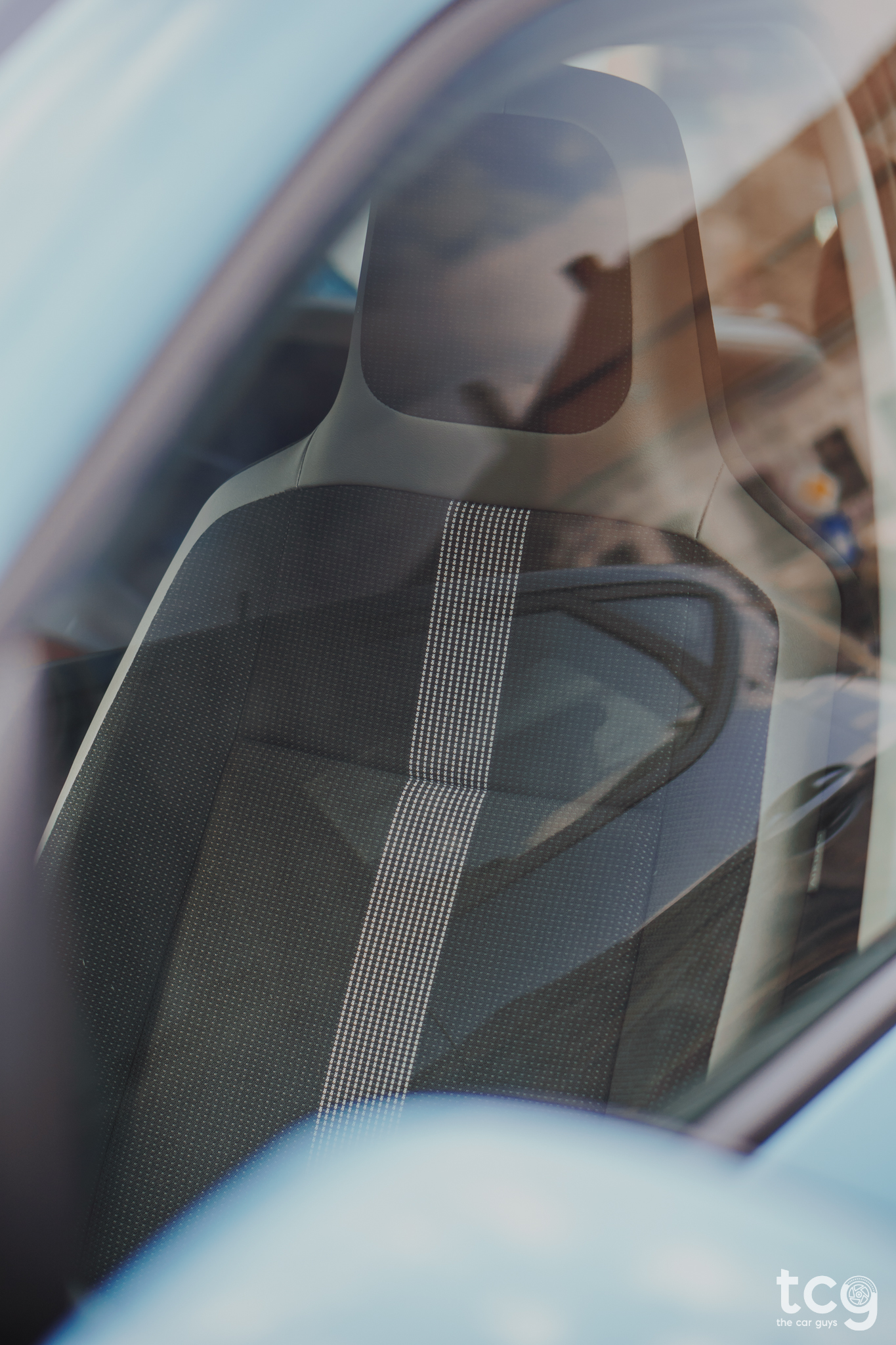 The interior is really simple and everything is handy and easy to use. I really like the steering wheel because it has the flat bottom, the gauges are big and simple but it is really easy to block the view of the gauges with the steering wheel. I really don't understand how they managed to design the dashboard in such a way that you can block it and that's really annoying because I couldn't keep the steering wheel in the exact position I wanted. It doesn't have an infotainment system per-se, but there's an app for your phone and if you connect your phone to the stereo device from the car, you can control the app from that device, which is pretty cool. There's also a mobile phone holder just above the climate control which is nice, especially if you want to use the app for this car, but it didn't fit my iPhone 7 Plus with the case on it.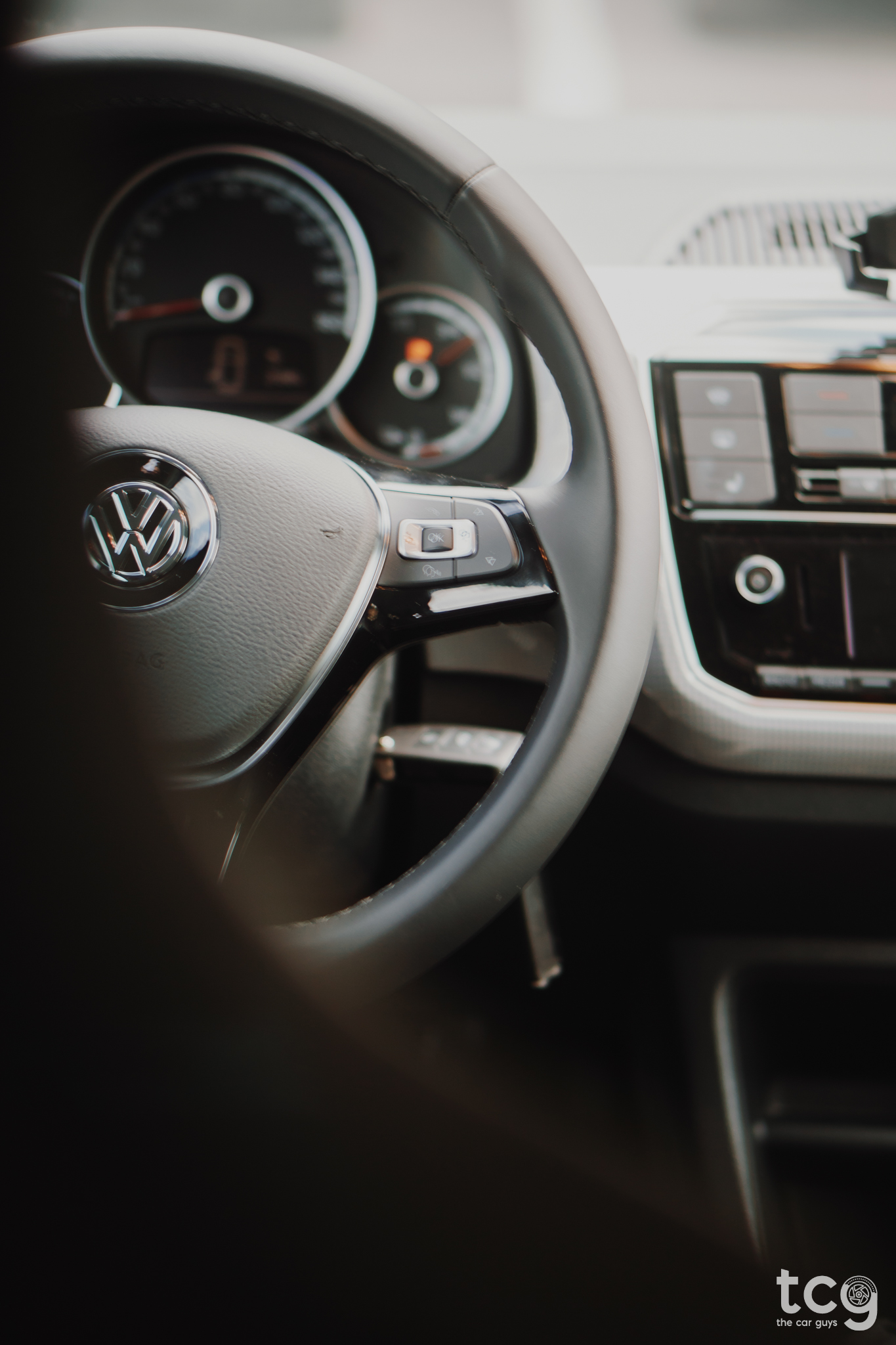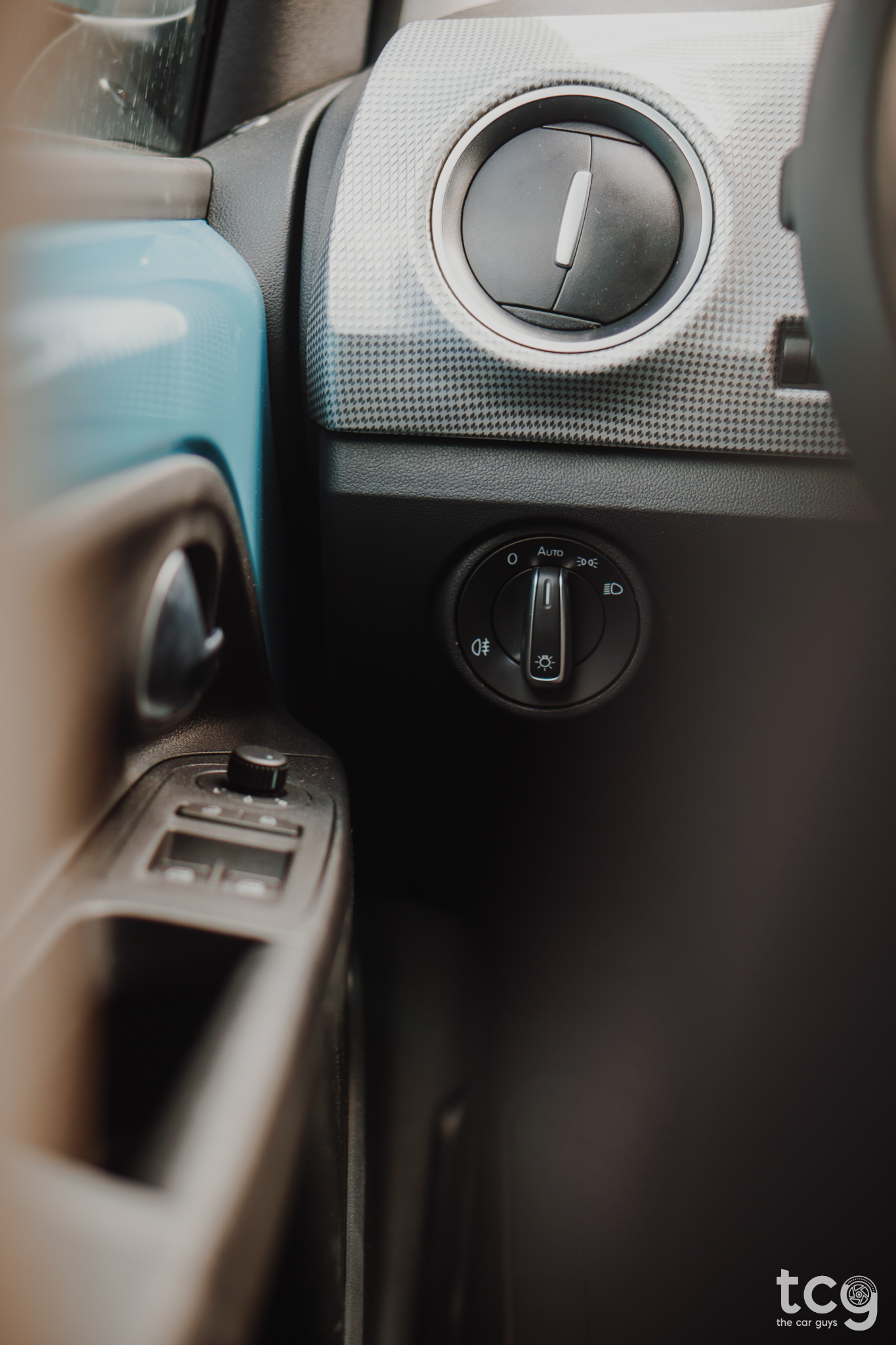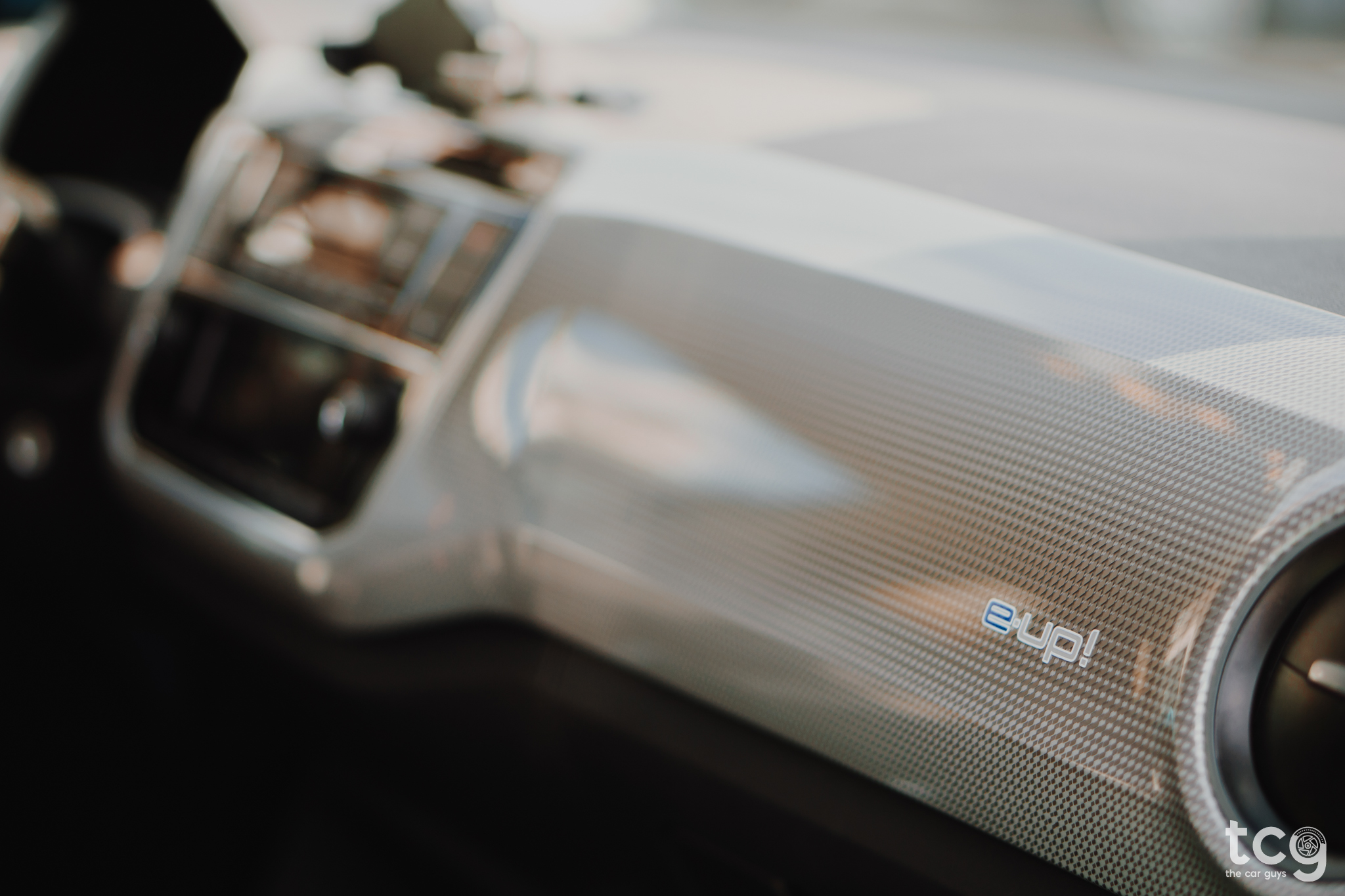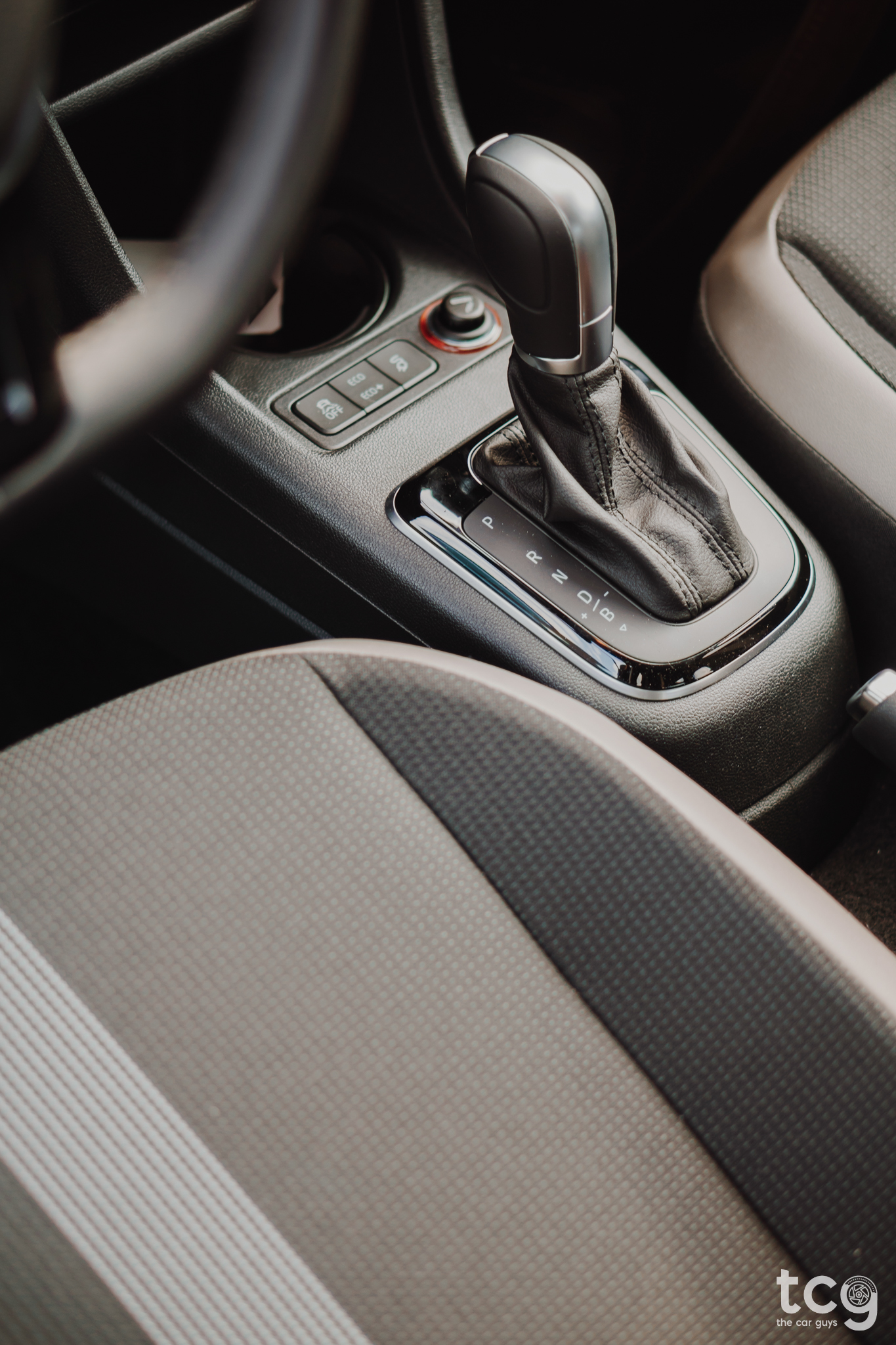 Ignoring the fact that you can block the view of the gauges, the driving position is nice and pretty comfortable, but room in the back is pretty tight for an adult, kids will be fine though. I didn't have time to install the child seat now, but the rear doors open pretty wide and I don't see any issues fitting a child seat.
---
3 things I like about th e-up! :
Even if the boot space is not large, which is to be expected for this car, it has a false floor and you can store the charging cables underneath.

The acceleration from 0 to the maximum legal speed in the city. Really awesome!

As it is a small car, it is really easy to maneuver and park.
---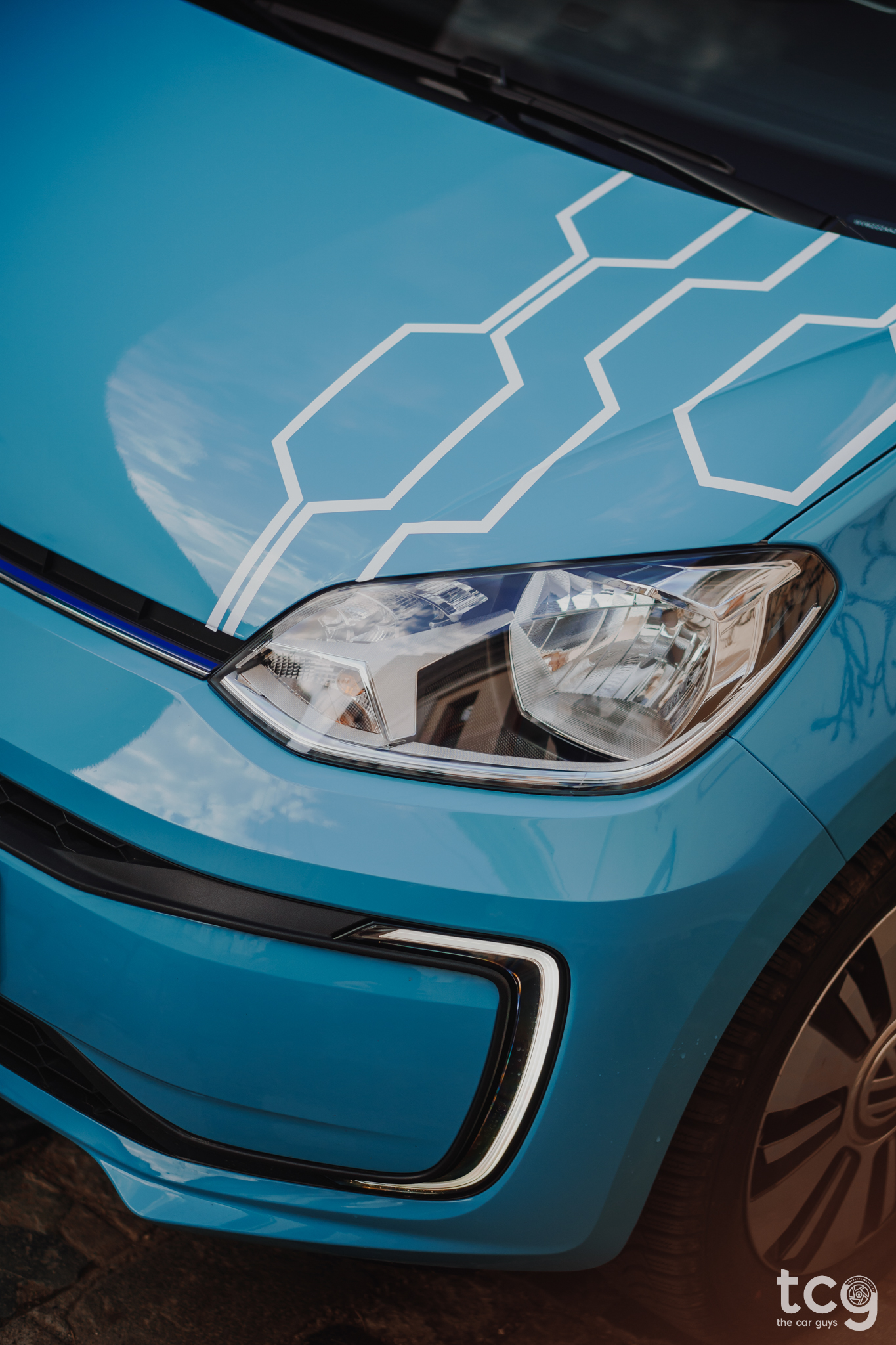 ---
3 things I don't like about the e-up! :
It comes with a regular key without a Start Stop engine button. Pretty disappointing for an electric car as it is weird to rotate the classic key and nothing happens.

It has electric windows, but they're not automatic, so it doesn't have the one push roll down window option. I kind of missed this.

The small battery with really low range. If it would have a real range of around 180-200 km, it would have been perfect.
---
Would I get this car? Probably not and I would wait for the I.D lineup to see what VW brings new to the electric game.
Price of the tested model: Not what it was priced as new and you can't get a new one anymore - but there's one available at our friends from Autoworld Volkswagen for 14,685 Euros.
---